Icebox Derby Applications Being Accepted Now
5/23/2018, noon | Updated on 5/23/2018, noon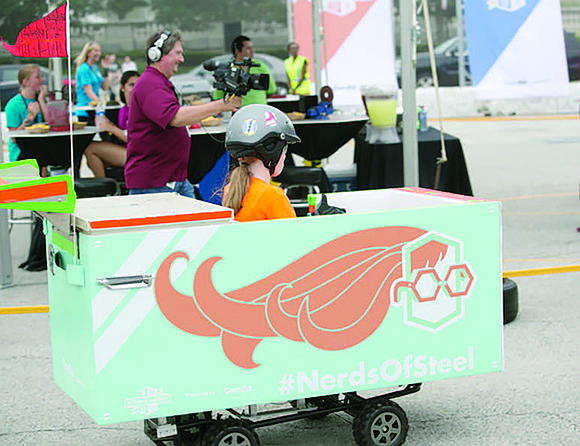 Icebox Derby Applications Being Accepted Now
BY KATHERINE NEWMAN
Applications are now being accepted for ComEd's fifth annual Icebox Derby, a competition that takes place over the summer and allows Illinois girls, ages 13-18, to convert an old refrigerator into derby cars and race them through Daley Plaza in Downtown Chicago.
"I get excited because I really think the Icebox Derby is one of the most unique programs that we have. It's basically a program that we created to really educate and expose young women to science, technology, engineering, and math (STEM) related careers and STEM-related practical applications. We did that because we wanted to make sure we found a unique way to show young women that it is not as intimidating as what they may think it is," said Melissa Washington, senior vice president of external affairs and large customer solutions for ComEd.
ComEd is one of the largest employers in the state of Illinois and they have begun to make significant investments in building a pipeline for young people to get interested in STEM and set their sights on working for ComEd someday. ComEd has worked with Hyde Park Academy, Kenwood Academy, and several other schools in the Hyde Park and Bronzeville areas on previous STEM-exposure activities and will be targeting those schools and communities again to spark interest in the 2018 Icebox Derby.
"We are in these communities every day and, from a company perspective, it's not missed that at ComEd, we have to make sure that all the communities are helped. We do invest heavily in programs that will not only get to young women, but also to African American students. Icebox Derby is one way because we do recruit broadly," said Washington.
To be considered for the Icebox Derby, applicants should be young girls living in Illinois and aged 13 to 18. Washington said that the Icebox Derby is for all young women from any background, whether they have experience with STEM already or not.
"We are really investing in the future pipeline of our future employees hopefully. We want to get to them at the ages of 13-17 because that's when students are making decisions about what college they want to go to or what career they want to enter. If we can get them exposed to STEM at that age, we can effectively create a future pipeline for STEM technologies," said Washington.
After the application process ends, June 1 at 11:59 p.m., 30 entrants will be chosen to participate in the Icebox Derby and split into six build teams. Each team will work with a female engineer from ComEd to mentor them and help them build their derby car.
The Icebox Derby Race Day is Aug. 4 at Daley Plaza, 50 W Washington St.
During the build days, there is an opportunity for each student to win a tablet computer and each participant will receive a Participant Prize of $1,500.
To learn more and to submit an application, visit www.iceboxderbyrace.com.