ST. AGATHA'S CHURCH OPERATES COMMUNITY TECH CENTER OUT OF CLOSED SCHOOL BUILDING
5/16/2018, noon | Updated on 5/16/2018, noon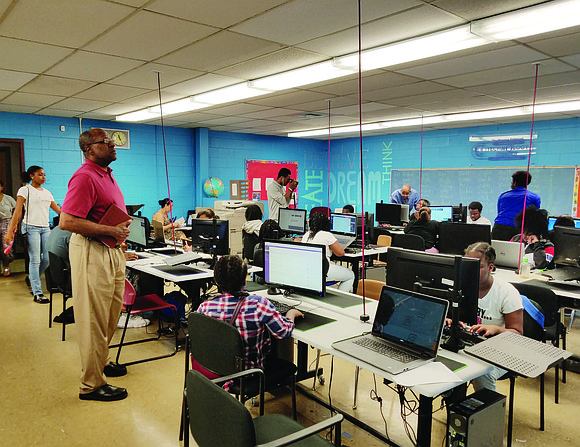 St. Agatha's Church Operates Community Tech Center Out of Closed School Building
BY KATHERINE NEWMAN
St. Agatha Catholic Parish in North Lawndale has found a way to repurpose the building that once housed the St. Agatha Catholic Academy to better serve the community. The school closed in 2016 and shortly after became the Church's Winslow Redmond Technology Center where several community programs currently operate.
"We saw that the school was going to eventually close and so it was a matter of deciding what our mission would be from that point forward?" said Father Larry Dowling, pastor of St. Agatha's. "In a lot of ways I think it was a natural transition for us because of the violence in the community, it seemed like a natural flow for us to outreach into the community to impact families. We work with families in our own parish, but also local families in the community. We serve about 700 families in the community through various programs throughout the year."
Several outreach programs have found their home in the Technology Center.
One program is the News School, this is a program where young adults, ages 15-24, learn vital reporting skills like writing leads, interviewing, investigative research, ethics, social media and marketing, and how to use Adobe design tools.
There is so much negative publicity about the North Lawndale Neighborhood. When you see our neighborhood on TV it is always about how it's crime-ridden and full of poor people. We wanted to bring something positive and to shed some positive light on the many people who are doing wonderful things in this community," said David Wolfe, director of the Technology Center.
St. Agatha's Catholic Academy alumnus Rhea Steele, president of Blue Ocean Logic, is using her professional knowledge of the tech industry to help build the Technology Center. She has been helping St. Agatha's to identify the best programming, purchase new and used computers, obtain grant funding, and create a safe and functional design for the Technology Center.
A new program that is beginning to get it's footing in the Technology Center is Tech Girlz. The Tech Girlz programming comes from the Philadelphia based organization and provides free technology curriculum to expose middle-school-aged girls to careers in the technology field.
"Only about 25 percent of information technology jobs in the country are held by women which is an appalling statistic when you realize that these are really good paying jobs. You can raise a family on a tech job and you don't need to really have a college degree to get your foot in the door. We want to prepare girls, get them interested and engaged, and show them that they can do these things and that it is not only for boys," said Joan Matz, local outreach manager in Chicago for Tech Girlz.
The Tech Girlz program is currently looking for volunteer teachers to lead Saturday morning classes at the technology center. For more information on participating in the program call 1-866-420-0296.