GRADUATION STORIES SHOWING GRIT AND DETERMINATION
5/16/2018, noon | Updated on 5/16/2018, noon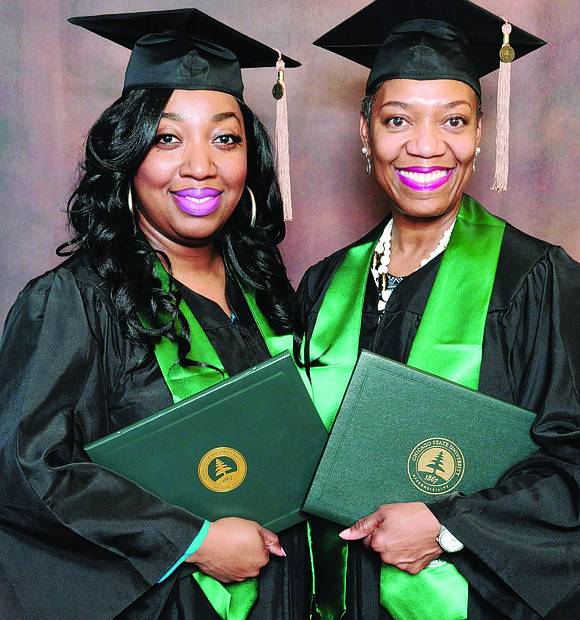 Graduation Stories Showing Grit and Determination
It's graduation season and as educational institutions award students their diplomas, 2018 college graduates are tossing their tassels symbolic of crossing over to another stage in life.
The transition from college was a reason to celebrate recently for one Chicago mother and her daughter who received their bachelor's degrees together on Thursday, May 10, 2018.
Joya Knox, a 54-year-old mother, received her degree just moments ahead of her 37 year-old daughter, Leza Knox, as each was handed a diploma for their degree in Business Administration from Chicago State University (CSU).
Neither Joya nor Leza followed the traditional four-year path to graduation. After one year in college, Joya started a family and spent her time working and taking care of her daughter. She worked for several years in business before deciding to return to school to obtain her bachelor's degree. Her decision to attend Chicago State was an easy one.
"I grew up on the south side of Chicago," said Joya. "Chicago State has always been a place known for its nurturing faculty and I wanted to attend a university where I knew I would be known by name and not by number. I encouraged my daughter to apply to Chicago State as well. I was confident that CSU would give her the positive experience she needed."
After 19 years despite life's challenges, Leza was determined to complete her degree. She started her academic career after high school at a local private university where she felt misguided and dropped out after investing two years. Eager to pursue her degree, she took classes at her local community college while working, received a promotion and excelled as a Conflicts Paralegal. Notwithstanding her success, Leza lost her job during the 2008 recession and was forced to prioritize her academic career. She enrolled at Chicago State University in 2011, and shortly thereafter, became ill and had to take some time off to heal.
Joya also took time off from school to care for her daughter. Yet determined to finish, they graduated together, often studied together and encouraged each other to pick up more classes as they neared completion.
"The Knox family is an inspiration to our campus community," said Dr. Rachel Lindsey, interim president of Chicago State University. "Their level of commitment and ability to persevere is phenomenal and we are proud to award their degrees together as mother and daughter."
Leza is a Conflicts Analyst and plans to pursue her masters degree in Communications. As for Joya, she plans to pursue her masters degree in Business Administration (MBA) and hopes to be a part of Chicago State University's first MBA class. CSU is set to launch its MBA program in January 2019.
Meanwhile, City Colleges of Chicago (CCC) recently held a graduation ceremony for the seven colleges that make up the school system.
One special graduate was the Olive-Harvey College Valedictorian, Paola Salcedo who received her associate's degree in accounting at the recent ceremony.
After finishing high school in Mexico, Salcedo moved to Chicago and eventually began taking English as a Second Language (ESL) classes through CCC. She then moved on to the GED courses to further improve her math and writing skills, and to prepare to enroll in college classes, all the while she was parenting her three young children and working to help support her family.