COMED HOSTS SPARK TANK EVENT FOR BRONZEVILLE HIGH SCHOOL STUDENTS
5/16/2018, noon | Updated on 5/16/2018, noon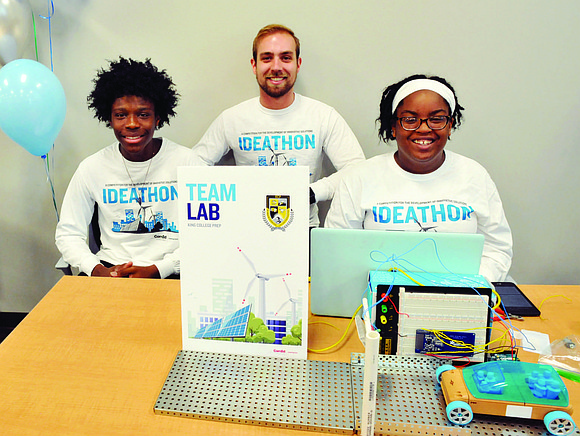 ComEd Hosts Spark Tank Event for Bronzeville High School Students
BY KATHERINE NEWMAN
ComEd recently held it's Ideathon Spark Tank, where twelve teams of high school students, who live or go to school in Bronzeville, presented the innovation projects they have been working on for the last five months.
The Ideathon is part of ComEd's Community of the Future in Bronzeville that includes several cutting-edge energy advancements in the neighborhood like the implementation of a smart grid and smart street lights.
"Our premise was simple, we wanted to include high school student in our Community of the Future and our Smart Cities initiative to make them aware of the emerging technology and potential opportunities as they think about the next level of their education," said Marlow Colvin, vice president of governmental affairs for ComEd. "The Ideathon was born out of this notion that we would work with the nine high schools that are part of the Bronzeville community, and some of the technology that we are using, and challenge these young students to come up with ideas to make their block, their community, and their school safer and more respondent to the needs of the residents of Bronzeville."
The first place team at the Ideathon Spark Tank was made up of Ashton Mitchell and Breshayia Kelly, two juniors from King College Prep High School. The team created a microprocessor-based solution designed to help prevent an accident when emergency vehicles travel through busy urban intersections. Each team had help from a professional mentor, Mitchell and Kelly worked with Derek Burling from Burns McDonnell, a full-service engineering, architecture, construction, environmental, and consulting solutions firm.
"We made a list of about ten different ideas and we chose that one to be the best one. Ashton, he is good at building things and I'm good at planning so we just kind of combined to figure out what the idea needed," said Kelly.
All of the teams had great ideas for how to use technology to improve their community, Colvin said it was not easy to choose a winner. The duo from King College Prep created a presentation that spoke for itself, and that is really what stood out to the judges.
"I think what gave them a little bit of an edge was their demonstration, it was probably the most well thought out. Everything from the vehicle to the roadway to how the system would be set up, it didn't leave anything for the judges to imagine. They put everything out there for the judges to take in. The demonstration really spoke for itself and it also spoke to the time and effort that they put into the demonstration, they really wanted people to see how it would work," said Colvin.
The students from King College Prep High School were awarded $2,000 for their first place project. Young Women's Leadership Charter School and De La Salle Institute teams finished 2nd and 3rd, claiming prizes of $1,000 and $500.
For more information and to view all of the Ideathon projects visit www.bronzevillecommunityofthefuture.com.