PULLMAN COMMUNITY CENTER STILL NEEDS $3 MILLION TO BE DEBT FREE
5/9/2018, noon | Updated on 5/9/2018, noon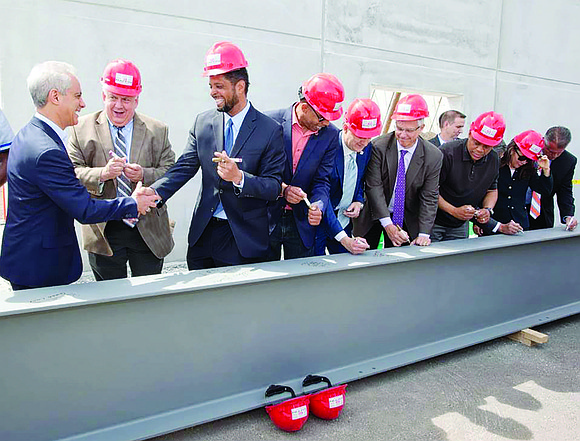 Pullman Community Center Still Needs $3 Million to be Debt Free
BY KATHERINE NEWMAN
Community members and investors in Chicago's Pullman neighborhood recently gathered at a press conference to celebrate the construction of the Pullman Community Center at 104th St. and Woodlawn Ave.
Once completed, the community center will offer 135,000 square feet of climate controlled, indoor sports playing fields and courts. Nearly 1,100 people are expected to come through the Pullman Community Center on a weekly basis.
The $20 million project has received $5 million in funding by utilizing New Market Tax Credits provided by Citibank, U.S. Bank and National Community Investment Fund (NCIF).
The rest of the money has come from private investments, grants, and donations from the Chicago Bears, Chicago Cubs Charities, Chicago Community Loan Fund, Chicago's Environmental Loan Fund, Chicago Housing Authority, City of Chicago, ESPN, Exelon, LISC Chicago, NFL Grassroots, State of Illinois Department of Commerce and Economic Opportunity, and Wintrust. Citibank, U.S. Bank, and NCIF have also made financial contributions outside of assisting with the New Market Tax Credits, according to a press release.
Ninth Ward Alderman, Anthony Beale, hosted the recent press conference at the Pullman Community Center construction site and reminded everyone that the project still needs to source $3 million more dollars to be able to finish the facility debt free.
"Let me say like I always do, it's another great day in the Ninth Ward. And let me just say how excited I am to be here today and we have a lot of people to thank," said Beale at the press conference. "We still need another $3 million in the next 12 months to have our facility be totally debt free and that is our goal."
Several project funders attended the press conference and took a moment to speak to the community and thank Beale for his hard work.
"Years ago when we took over the [Chicago Cubs] we did say, we are not the Wrigleyville Cubs we are the Chicago Cubs. Since then, we have done everything we can to build ball fields throughout the city and to touch everyone and every ward throughout the entire city. We have done a lot of great projects, but this one might mean the most to me personally because of the passion and how much it means to Alderman Beale. It's an honor to be part of something this great," said Thomas Ricketts, chairman, and owner of the Chicago Cubs, at the press conference.
The facility will not only provide sports training, there will also be incorporated academic assistance and ACT/SAT preparation for students.
"We know that we can introduce people to sports all day long and we know that we can produce great athletes here in the City of Chicago and in the state of Illinois. This facility is not only going to provide an opportunity to produce athletes, but we are going to have an ACT/SAT component so we can produce smart athletes out of this facility," said Beale.