National Firefighter Combat Challenge stops in South Suburbs
5/9/2018, noon | Updated on 5/9/2018, noon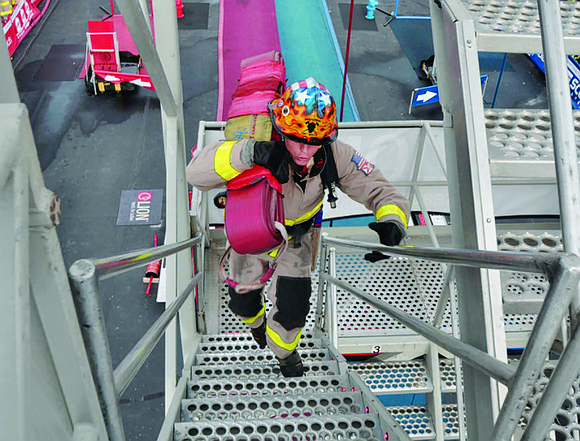 National Firefighter Combat Challenge stops in South Suburbs
BY KATHERINE NEWMAN
The Tinley Park Fire Department recently hosted their First Responders Fest at the 80th Avenue Metra Station in Tinley Park. The two-day event featured the Firefighter Combat Challenge presented by Scott Safety. Hundreds of firefighters traveled to Chicago's South Suburbs to participate in the event and bring awareness to the physical strains of the profession.
"The Firefighter Combat Challenge seeks to encourage firefighter fitness and demonstrate the profession's rigors to the public. Wearing full bunker gear and the Scott 5.5 Air-Pak breathing apparatus, pairs of competitors race head-to-head as they simulate the physical demands of real-life firefighting by performing a linked series of five tasks including climbing the 5-story tower, hoisting, chopping, dragging hoses and rescuing a life-sized, 175 lb. victim as they race against themselves, their opponent and the clock," said Joseph Smulevitz, a Tinley Park firefighter.
The Scott Safety Fire Fighter Combat Challenge travels around the country and has even begun to venture to countries like New Zealand, Germany, Argentina, Chile, and South Africa, according to Smulevitz. This is the second time the challenge has been held in Tinley Park and the fire department is hoping to make it an annual event.
"Tinley Park Fire Department hosted this weekend's event and we plan on making it an annual event. We decided to bring it to Tinley to support fitness in the fire service as well as give the public an understanding of what we do," said Smulevitz.
There are no nominal prizes, but there are overall winners in the five categories of competition, team, male, female, over 40-years-old, and over 50-years-old. The winners receive bragging rights and an entry into the Grand National Championship event at the end of the season, according to Smulevitz.
The event also offered a Kids Firefighter Challenge that coincided with the adult competition and fire safety education programs. The Kid's Firefighter Challenge was a way to encourage children to get excited about emergency service careers.
"This is a fantastic way to learn about our first responders all while promoting a community event that teaches safety and fitness, it's a win, win," said Jim Garrett, president and chief executive officer for the Chicago Southland Convention & Visitors Bureau, in a press release.
The main attraction for the weekend event was the Scott Safety Fire Fighter Competition, but it was also a community event that was free and open to the public. There was live music, food vendors, and a beer tent.
Following the Tinley Park event, the Scott Safety Firefighter Combat Challenge will travel to several cities and states across the country including Florida, Virginia, and Kentucky. A full list of upcoming challenge locations along with the competition results from the Tinley Park event can be found online at, www.firefighterchallenge.com.