NEW LIFE COVENANT CHURCH SE WILL TAKE TO STREETS OF SOUTH SIDE CHICAGO WITH "PRAYER ON THE 9" DEMONSTRATION
Pastor John F. Hannah inspired by the youth will support the national call for action from "March for Our lives" Movement Calling for Gun Control
5/2/2018, noon | Updated on 5/2/2018, noon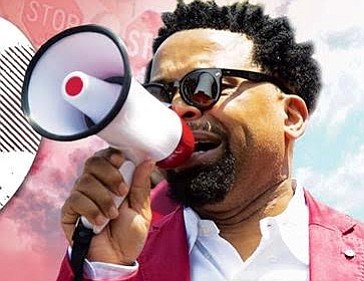 NEW LIFE COVENANT CHURCH SE WILL TAKE TO STREETS OF SOUTH SIDE CHICAGO WITH "PRAYER ON THE 9" DEMONSTRATION
Pastor John F. Hannah inspired by the youth will support the national call for action from "March for Our lives" Movement Calling for Gun Control
Thousands to join the city-wide march in a show of solidarity- A Call for all Youth!
Senior Pastor John F. Hannah and the New Life Covenant SE Church congregation invite youth and the entire Chicago community to stand together for "MARCH & PRAY FOR OUR LIVES" on Saturday, May 19, 2018 at 11:00am starting at 79th and Greenwood, during the annual Prayer On The 9 initiative. "Prayer on the 9" is an annual community outreach hosted by Pastor John F. Hannah and New Life Covenant Church Southeast. The event serves as a catalyst for social change in Chicago communities where violence is most prevalent. It's a call-to-action for the community to pray and gather along Chicago's East 79th Street as one community, one city against violence of any kind.
Pastor Hannah was inspired by the survivors of the February 14 shooting at Marjory Stoneman Douglas High School, who organized the March for Our Lives protest against gun violence and rallied the nation in Washington, DC. Chicagoans will come together and line two-miles along 79th street from Greenwood to the Dan Ryan on both sides of the street, to demonstrate a unified stance against violence and to pray for those communities most affected by violence. Like other cities, Chicago's neighborhoods are affected by gun violence. Prayer on the 9 was created to put a stop to senseless shootings.
Pastor John Hannah will partner with community organizations in the neighborhood to provide resources and services for the residents after the demonstration. New Life Covenant will fund the following organizations over the summer to provide resources for violence prevention and awareness in the Grand Crossing area:
• Champs mentoring (Southside): based in Greater Grand Crossing for Black and Latino boys 12-18 providing mentoring and resources.
• Dream on Education (Westside): 6th-8th After-school Program for schools in low-income communities.
Also after Prayer on the 9 - on Saturday, May 26, New Life Covenant Church Southeast will partner with the Chicago Police Department for its gun turn-in program.
Pastor Hannah states, "I want to continue to support our active youth who refused to be silent victims of the gun violence that tears up our community." He continues, "It's time for clergy, church members, organizations, students, teachers and community leaders to step out of the boundaries of their four walls and bridge the gap to create positive change in the community."
Pastor Hannah is encouraging all of Chicago to participate especially the youth. Attendees will gather at 79th and Greenwood in Chicago at 11:00am. for Pastor Hannah's "Community Address" and presentation of a financial contribution to partnering organizations. At 12noon in the most dramatic portion of Prayer On The 9, "The Step-Out," led by Pastor Hannah, the group will be directed to March down 79th Street in unison.
"There is no power on Earth stronger than prayer. Together, we will harness the power of collective prayer to address the problems of the community while seeking healing and transformation for the many ills in our society, including all types of violence, poverty, mental and physical illness and more," said Pastor Hannah who leads a congregation of nearly 19,000 people. New Life Covenant follows the principles of a church of love, worship, word and outreach.
To register for Prayer On The 9, please visit www.PrayerOnThe9.org. Follow the specific instructions for "individuals" or "churches/organizations" to receive block placement assignments. For further information, please call 773-285-1731.