NEIGHBORHOOD ENHANCEMENT GRANT PROGRAM NOW ACCEPTING APPLICATIONS
5/2/2018, noon | Updated on 5/2/2018, noon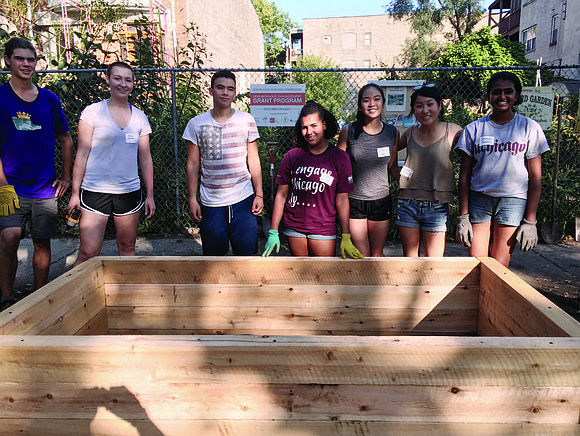 Neighborhood Enhancement Grant Program Now Accepting Applications
BY KATHERINE NEWMAN
The deadline to apply for the South East Chicago Commission's (SECC) Neighborhood Enhancement Grant Program is quickly approaching. Community groups and organizations from Hyde Park, Kenwood, Oakland, Washington Park, and Woodlawn are encouraged to submit their proposals for funding to support their various projects by May 14.
To be considered for a Neighborhood Enhancement Grant of up to $4,000, a project must be highly visible from the street, be completed between June 1 and Sept. 30, physically enhance the neighborhood and build on the character and uniqueness of the community, strengthen civic pride and have a strong sense of community, and be sustainable.
"The program is an initiative that is administered by the SECC and we gain community sponsorship from different community partners to help fund the program. We award grants to neighborhood organizations that support beautification projects to enhance the five footprint communities that we serve and enhance the quality of those communities," said Diane Burnham, executive director of the SECC.
The SECC is a community and economic development organization that serves five neighborhoods within Chicago's southeast lakefront community, Hyde Park, Kenwood, Oakland, Washington Park, and Woodlawn. The organization works to foster collaboration and coordination among businesses, organizations, and institutions which ultimately promotes the creation of jobs, economic investment, and vitality, according to Burnham.
This is the 14th year that the SECC has awarded the Neighborhood Enhancement Grants and previous recipients have included neighborhood block clubs, community organizations, school groups, park advisory councils, and other various organized groups. It is not a requirement for applicants to be 501c3 non-profit, the program is open to anyone who has a plan to enhance their community.
The program began as a way to beautify the vacant lots that were eyesores in the five communities. Vacant lots also contribute to lower housing values and crime. Since inception, the program has grown and the SECC and Burnham can see that the Neighborhood Enhancement Grants now do much more than just address vacant lots.
One particular grant recipient that left an impact on Burnham was the Cornell Park Advisory council who received a Neighborhood Enhancement Grant two years ago to build an educational play space within the park.
"Two years ago, Cornell Park was underutilized but they were trying to get the neighbors more engaged. There had been some transient populations and some violence on that block of Cornell from time to time so the park advisory council really worked to build a kiosk to connect neighbors to what's going on and they also labeled all the trees and made it more of an educational focus so now it's like a nature play space," said Burnham. "To me, that is really impactful especially because they have experienced violence. For people who are long-time residents or new residents, to have a project like that for a park that's in the middle of the block is really impactful."
For more information and to access the grant application visit www.secc-chicago.org.