Museum of Science and Industry Celebrates DNA Days
5/2/2018, noon | Updated on 5/2/2018, noon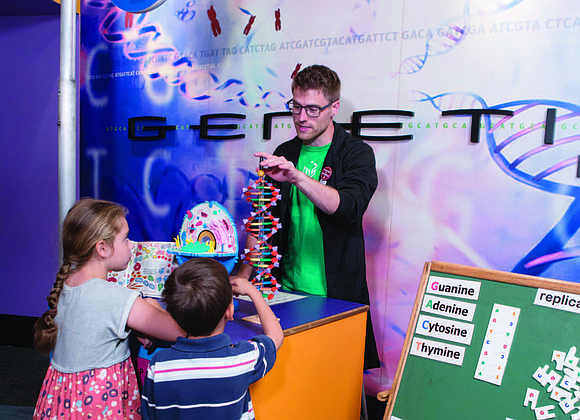 Museum of Science and Industry Celebrates DNA Days
BY KATHERINE NEWMAN
The Museum of Science and Industry (MSI) recently celebrated DNA Days with a week of special activities and experiences that exposed visitors to genetic science. This year's series of events was extra special because it also celebrated the 15 year anniversary of the successful completion of the Human Genome Project.
The Human Genome Project (HGP) was an international research effort to sequence and map all of the genes, together known as the genome, of members of our species, Homo sapiens. Completed in April 2003, the HGP gave us the ability to see the complete genetic blueprint for human beings, according to www.genome.gov.
"What we are doing at MSI is we are pulling together some activities that we generally do around genetics and DNA and amplifying them. We have lots of interesting opportunities for people to do live science experiences here and interact with both our staff and with some young scientists from the University of Chicago," said Patricia Ward, director of science exhibitions and partnerships at MSI.
The museum offered several hands-on DNA activities, some were stationary and some were not.
"There are various cart based programs, which are mobile and move around the different areas of the museum, where people can isolate DNA from a strawberry which is super fun because you get a lot of it. It's kind of funny because we don't always realize, or at least it's not in the front of everybody's mind, that DNA is in all living things so seeing it come from a strawberry is fun," said Ward.
There were microscope stations set up as part of the event and a workshop where participants got to isolate DNA with the help of the staff. For an extra charge, visitors could have a special experience, the Fab Lab, where they were able to create a 3D print model of a DNA helix to take home as a memory of this year's DNA Days celebration.
Graduate students, studying genetic science, from the University of Chicago were present at this year's celebration and served as Ward's favorite part of DNA Days. It was a great experience for both the visitors and the young scientists, according to Ward.
The various activities were flawlessly tied into MSI's Genetics and Farm Tech exhibits which showcase the importance of DNA in our everyday lives.
"We are calling attention to some of our other exhibits like Genetics and Farm Tech where we have a greenhouse and talk a lot about genetics, the fundamentals, and how the Human Genome Project sort of paved the way for a lot more advancements which we are beginning to realize today about human health and genetics and personalized precision medicine," said Ward.
The Farm Tech and Genetics exhibits are still on display at the museum and offer a lesson in genetics for anyone who wasn't able to make it to DNA Days.
For more information on exhibits and upcoming events at MSI, visit msichicago.com.