GOD FIRST MINISTRIES HOLDS ANNUAL PRAYER BREAKFAST
5/2/2018, noon | Updated on 5/2/2018, noon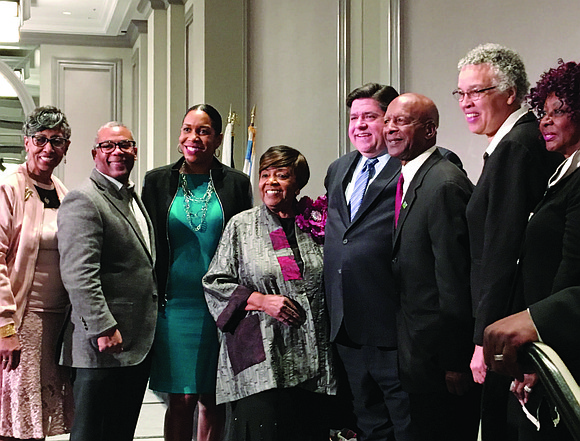 God First Ministries Holds Annual Prayer Breakfast
BY KATHERINE NEWMAN
Dr. Mildred C. Harris, founder and CEO of God First Ministries, recently held her annual Prayer Breakfast at the Chicago Hilton, 720 S. Michigan Ave., where she presented several Distinguished Leader Awards and four financial scholarships. Harris has been hosting the Prayer Breakfast for over 30 years to pray for the cities leaders and feed those who are disadvantaged.
God First Church and Ministries is a non-profit organization dedicated to training, developing and utilizing individuals' talents and abilities to the glory of God. Using a holistic approach, the Ministry reaches out to serve diverse communities through social programs and services, according to a press release about the Prayer Breakfast.
"I'm known as a Mother of Zion and I've been praying for years for the City of Chicago so I've been given the title of the Mother of Transformation because I just want to see the city transformed from all the things that we've been through. Even though we've been through so much I believe that God can bring transformation to this city when we as the people come together in prayer," said Harris.
Several city leaders were in attendance. Congressman Danny Davis, Chicago Mayor Rahm Emanuel, IL Attorney General Lisa Madigan, IL Secretary of State Jesse White, and Cook County Board President Toni Preckwinkle all came to the event to have breakfast and join Harris in prayer for the city and the people of Chicago.
"I just have a heart for people to come together, whether they be in politics, whether they are retired or seeking employment, it doesn't matter the status we just want to bring the people together to magnify and bring praise and glory to God."
Every year, God First Ministries and Harris invite Chicago's disadvantaged community members to come enjoy breakfast with them and every year she prays that the community will come together to help her foot the bill.
"Each year I've signed a contract with a hotel believing God that people were going to stand with me and help to pay for seniors to come, homeless people, people who have been incarcerated, and children who need money to go to school," said Harris.
At the Prayer Breakfast, four students received financial scholarships, two students that are currently living in CHA housing and two students that Harris knows personally.
Several Distinguished Leader Awards were given at the breakfast as well. Some award winners are involved in God First Ministries and some are people who Harris recognized as having a positive impact on Chicago.
"We had Dr. Janice Jackson who is the new CEO of Chicago Public Schools and I have admired her from a distance and in prayer. I felt the Lord leading me to invite her to be honored and she did receive the award. I feel that this young lady is going to go far and do much to help improve the education of our students," said Harris.