South Side Dance Company Gives Annual Performance
3/28/2018, noon | Updated on 3/28/2018, noon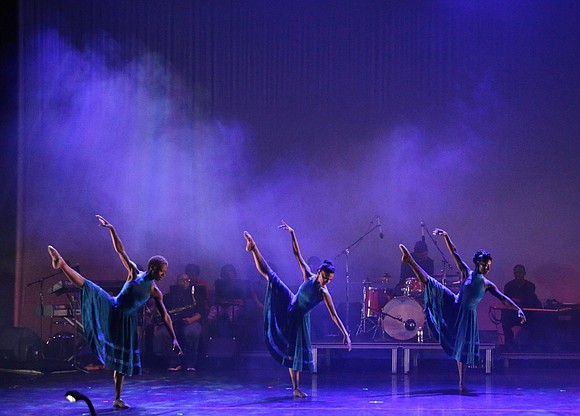 South Side Dance Company Gives Annual Performance
BY KATHERINE NEWMAN
Over the weekend, Praize Productions opened and closed their seventh annual theatrical production, Revival, at the Reva and David Logan Center for the Arts in Woodlawn. The annual production is in place of a formal dance recital for the non profit performing arts organization. This year's theme explored the phases of human growth, death, burial, and resurrection/revival.
"This production, on a personal level, stems from my own life. Entering our seventh year as a non-profit is a blessing but it's also tiresome. It's blinding work to get a business off the ground and when I started this I was only 25 years old and had just come out of graduate school. I was excited to make it to seven years, but I go to that point where I was like, I want more," said Enneressa "Reesie" Davis, CEO and Founder of Praize Productions, Inc.
Praise Productions is a non-profit organization with a focus on performing arts. Davis leads three platforms within the organization, the performing art academy where youth and adults can take dance lessons, an outreach program that takes performing art education into schools that don't have it, and two professional dance companies, one for youth and another for adults.
With a background in dance, Davis knew her dancers needed and deserved a chance to have a professional dance experience, but she decided to stray away from the traditional dance recital format for the yearly performance.
"Growing up as a dancer, I hated recitals so that's why I really like doing these theatrical productions. I feel like in order to create and cultivate a professional artist you have to give them professional experiences. So, we provide these platforms for our youth dancers and our adult dancers so they can continue to evolve into professional artists," said Davis.
The focal point of the performance was definitely dance, but it also included visual art, a live band, singing, and spoken word to create a well-rounded experience.
Set one of the performance explored death, this is in reference to the things in our lives that are slowly killing us on the inside. Set two, burial, represented the point in time where a person has to separate themselves from the world and work on themselves, and the third set was resurrection/revival and this showed the point where a person finds clarity and purpose.
The theme is something very close to Davis' heart because she not only wrote it, but she also experienced the phases that led to her revival.
"This is my baby, this organization that I crafted from the ground up and I heard God tell me, you need a revival. That's when I started scripting the shows and those stages that I talked about, death, burial, and resurrection/revival, I went through those. It's funny because my production team was waiting for a script and asking me where it was, but I couldn't give it to them right away because I was still living it so as I was living it as I was writing it," said Davis.
For more information about Praize Productions visit www.praizeproductions.com.