New Hotel Enlists Hyde Park Students To Beautify Construction Site
3/28/2018, noon | Updated on 3/28/2018, noon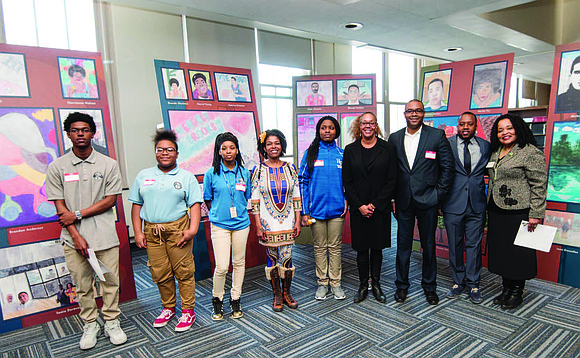 New Hotel Enlists Hyde Park Students To Beautify Construction Site
BY KATHERINE NEWMAN
The unveiling of an art installation created by students at the Hyde Park Academy High School was held recently. The students worked to create original art pieces that will be on display at 53rd Street and Dorchester Avenue, in front of the active construction site for the SOPHY Hotel in Hyde Park.
The mural project was facilitated by Alica Garcia-Abner, president of Trinal Inc. Trinal is a diversity and inclusion consulting company which has been working on the SOPHY Hotel Hyde Park project, according to a press release from SOPHY Hotel.
Anthony Beach is the general manager of the SOPHY Hotel in Hyde Park and an alumnus of Hyde Park Academy. "It just made sense for the partnership to take place," Beach said.
He added, "[SOPHY Hyde Park] partnered with the school and the art teachers at Hyde Park Academy in which they asked the students to give their rendition of what they consider Hyde Park and their thoughts of it with the focus being not only on the art, music, and the history, but also the intellectual aspect of what Hyde Park is and the diversity it represents," said Beach.
Students from Hyde Park Academy were asked to create a piece of art that represents Hyde Park. Their colorful and eclectic designs would be turned into a unique public mural and would hide the construction going on at the corner of 53rd Street and Dorchester Avenue.
Normally, a construction site would be wrapped in a chainlink fence to keep out trespassers and brandished with safety precaution signage and hiring advertisements for the business coming to the structure. SOPHY Hyde Park decided to do things differently and replace those typical construction sights with art, according to Beach.
The pieces created by the students at Hyde Park Academy have been digitized and made into a large-scale display that is viewable to the public from 53rd Street. Each piece of art is attributed to the specific artists who designed it, according to Beach.
"For people in traffic and walking by, not only are they seeing this beautiful artwork, but the names of the students are on there. It's great to see your name in print and, seeing the hard work that they put in with their name in print is going to be a good self-esteem uptick and will continue to motivate them on the path they're on currently," said Beach.
As SOPHY Hyde Park inches closer and closer to its Summer 2018 completion date, it is their intention to keep local art pulsing through the hotel, according to Beach.
"The plan is to keep it local and more or less give a representation of Hyde Park. We'll be partnering with the Hyde Park Art Center, a number of local artists, and possibly the Museum of Science and Industry and just representing the history of Hyde Park," said Beach.
For more information on SOPHY Hyde Park visit www.sophyhotel.com.