Johnson College Prep Hosts Second Annual Women's Empowerment Brunch
3/28/2018, noon | Updated on 3/28/2018, noon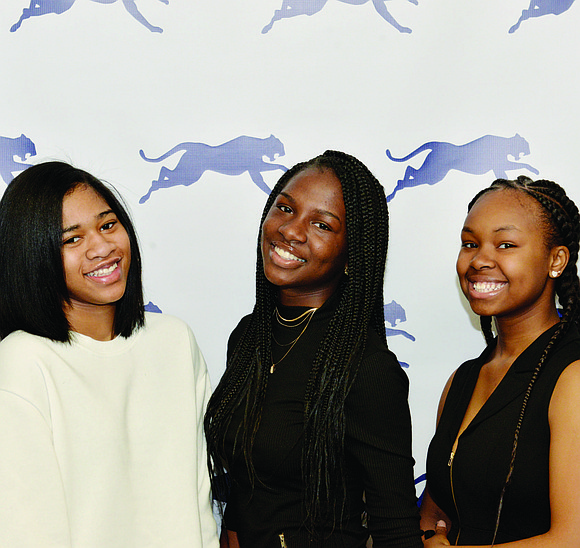 Johnson College Prep Hosts Second Annual Women's Empowerment Brunch 175 young women mentored by dozens of professional women from the community
On Saturday, Johnson College Prep, the Englewood campus of the Noble Network of Charter Schools, hosted their second annual Women's Empowerment Brunch. The event connects female students with professional women and aims to inspire and encourage students while helping them build their self-esteem and professional networks.
Over 30 professional women attended the event and were able to share their stories of empowerment and encourage the young women as role models. These women were a range of professionals, from doctors and entrepreneurs to lawyers and social workers.
"The brunch was a motivating experience. It was good for us to have the chance to network with the women. Most of the women grew up in the Englewood area, the same neighborhood we grew up in. They were able to understand what we have experienced because they knew a lot about our environment because of our similar backgrounds. These women were able to conquer obstacles and are now living successful lives," said Deliah Talbert, a senior at Johnson College Prep. "I look forward to this event growing and expanding into our community. I think it would be a positive experience for other girls in the Englewood community to be able to experience this type of event," added Talbert.
The event kicked off with a number of student performances, a live band and a opening address by LiYana Baker, co-chair of the event and office manager at Johnson College Prep. As the students and professionals engaged in conversation, they were served brunch by 30 professionally dressed young men who attend Johnson College Prep.
After lunch, there was a panel discussion featuring three professional women in the community Lauran Smith, Dr. Tammy Hicks, and Dr. Tiffany White. The panel was moderated by Kahlena Williams, a senior at Johnson College Prep. Each panelist shared information about her background and her story.
LiYana Baker shared a story about how a previous attendee of the event, current Noble Network of Charter Schools president Constance Brewer, decided to sponsor a complete prom experience for one unsuspecting student. Baker gave the student's advisor British Reynolds the opportunity to share a few words to the crowd before revealing the students identity.
"Today I have the honor to personally recognize a young woman who has inspired me to be a better educator, a better woman and really overall a better person. I've learned from her more than she will ever know, she's what this brunch is all about. This day serves to unite and recognize the power that each and every woman holds. The power isn't physically tangible but it's apart of the essence of who you are truly are, and that's our character," said British Reynolds. "She is humble, she is beautiful, she is intelligent. She is why I personally strive to be a better example for young women, because she has been that example for me. She is Damieona Harris," said Reynolds revealing the student and recipient of the sponsored prom.
"The event in its second year has proven itself to be a growth tool for my female students. I look forwarding to moving from 175 students in attendance to serving the entire Noble female population," said Baker.

Professional mentors in attendance included:
• Stephanie Coleman, 16th Ward committewoman
• Brandi Z. Burton, Esq., Assistant State's Attorney
• Kashawndra L Wilson, Principal, Hansberry College Prep
• Satoya Russell, Director of Human Resources
• Dr. Tammy Hicks, CEO
• Dr. Carol Collum, CEO
• Lauran A Smith, CEO
• JacQuera Calvert, CEO
• Kimm Danzie, Business Owner
• Dr. Tiffany White, Professional Makeup Artist
• Jessica Turner, IT Manager
• Erika Robinson, Resource Coordinator
• Tanesha Peeples, Deputy Director of Outreach
• Dr. Lauren Meeks, Case Manager
• Ka'Shay Watson, Founder of Bella Breed
• Angela Pruitt, PharmD Candidate 2018
• Javonna Askew, Resource Case Manager
• Toni Wells, HR Coordinator
• Alleson Knox, College Career Coach
• Khadijah Bradford, School Counselor
• Gina Evans, HIV Training Specialist
• Keshuna Franklin, Graphic Designer