Honey, We Shrunk the Family!
3/28/2018, noon | Updated on 3/28/2018, noon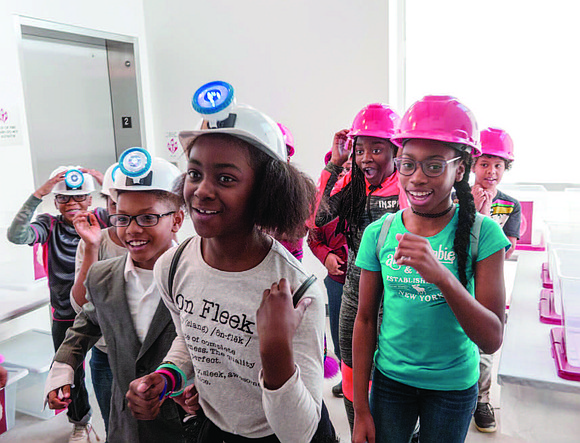 Honey, We Shrunk the Family!
Take a Trip Inside the Human Body and Out to Outer Space in Chicago Children's Theatre's An Epic Tale of Scale
CHICAGO - Families, set your dials for fun, because Chicago Children's Theatre is transforming its new West Loop home, The Station, into an all-immersive, two-story theatrical environment, totally unique to Chicagoland, for the world premiere live theater event An Epic Tale of Scale. And it's going to be EPIC!
Co-created and co-directed by Henry Wishcamper and Jo Cattell, collaboratively designed by Chicago Children's Theatre Community Programs Artistic Director Frank Maugeri, with original music by Gabriel Ruiz, An Epic Tale of Scale is a first of-its-kind, live theater experience that nearly defies description.
Think The Magic School Bus meets Sleep No More and you're on the right track. Kids and adults alike will embark on this world premiere, interactive experience that spans two levels of The Station, exploring the mysteries of scale while taking families on a journey deep inside the human body and out to the farthest reaches of the galaxy.
This isn't some science nerd's sit-and-watch slideshow preaching the wonders of scale. An Epic Tale of Scale introduces an all-new way for kids and parents to enjoy live theater, with an all-out audience immersion environment that lets everyone experience the science behind scale.
Audiences are limited to groups of 20, with entry times staggered every 15 minutes for a fun, funky, two-story small group tour through the human body, outer space and beyond.
Along the way, voyagers young and old will encounter costumed corpuscles, a collection of curiosities on loan from
The Field Museum, art activities, a race between parents and kids through an anatomical obstacle course, mind benders, a musical soundscape in every space and maybe even a cosmic dance party.
An Epic Tale of Scale will wow ages 6 and up, and is intended for kids and adults to experience together.
Performances are Saturdays and Sundays, now through April 8, 2019. Entry times Saturday, March 31 and April 7 are Noon to 2:30 p.m., and 4:45 p.m. through 6:30 p.m. Sunday entry times on April 8, are every 15 minutes, 10:30 a.m. through 12:30 pm., and 2:45 p.m. through 4:30 p.m. Note: No performances Sunday, April 1.
Tickets to An Epic Tale of Scale are $47 including fees. Purchase tickets, sign up for entry times and inquire about group rates at chicagochildrenstheatre.org or call Chicago Children's Theatre Guest Services, (872) 222-9555.
Chicago Children's Theatre, The Station, is located in the heart of Chicago's West Loop community at 100 S. Racine Avenue, at Monroe. Free onsite parking is available in the lot on the south side of the building, entrance on Racine. The Station is also surrounded by free street parking, metered street parking and several paid lots, including Impark, 1301 W. Madison St.