PepsiCo Builds A Pathway To Employment With City Colleges Of Chicago
3/21/2018, noon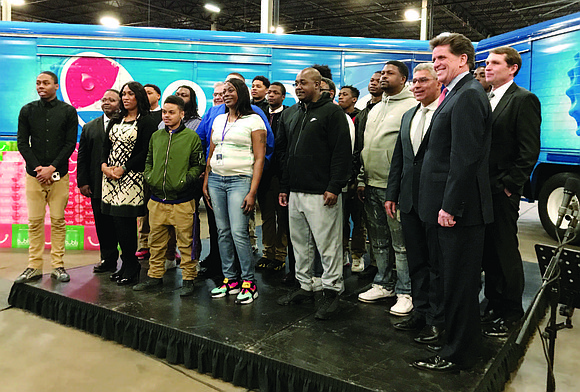 PepsiCo Builds A Pathway To Employment With City Colleges of Chicago
BY KATHERINE NEWMAN
City Colleges of Chicago and PepsiCo recently announced their new partnership to offer students a pathway to careers as merchandisers, warehouse personnel, commercial truck drivers and machine maintenance technicians and mechanics. PepsiCo committed to providing up to 40 jobs annually to students from Olive-Harvey College and Richard J. Daley College
Additionally, PepsiCo will offer scholarships to help eliminate the barrier of cost as students pursue a college education. Olive Harvey College and Daley College will include PepsiCo-specific training in their curriculum to prepare students for job interviews and the company screening process at PepsiCo, according to a press release from City Colleges of Chicago and PepsiCo.
"Our focus at City Colleges is transforming our students' lives through education, connecting them to four-year universities or immediate employment,and putting them on the path to upward mobility," said City Colleges of Chicago Chancellor, Juan Salgado. "The PepsiCo partnership perfectly aligns with our mission by offering our students a pathway to family-sustaining careers in high-demand fields."
PepsiCo is one of the nations largest food and beverage companies. They own product brands like Quaker, Tropicana, Gatorade, Frito-Lay, and Pepsi-Cola. Their interest in collaborating with City Colleges of Chicago comes from a
long-time presence in Chicago operating a manufacturing facility on 51st St. in Bridgeview, having a large distribution center on 35th St., and management offices in West Loop
and Schaumburg, according to a press release from City Colleges of Chicago and PepsiCo.
PepsiCo wanted to listen to the needs of the community they are occupying and help where they could, according to a representative from PepsiCo.
"At the core of who we are is our fundamental belief of 'Performance with Purpose' which says that our success is intrinsically tied to our ability to be responsive to the needs of our society. Training Chicago students is simply our commitment to invest in the community where we do business and where our employees live," said a representative from PepsiCo.
After talking with community leaders and learning that there was a challenge with unemployment in the area, PepsiCo turned to City Colleges of Chicago to build a pathway to employment, according to PepsiCo.
"Realizing PepsiCo regularly requires the unique skill-set of persons trained in the areas of Transportation, Distribution, and Logistics along with Advanced Manufacturing Maintenance within the Chicagoland area, we turned to the City Colleges of Chicago, specifically Olive Harvey College and Richard J. Daley College, to create a pathway for students in the these disciplines," said a representative from PepsiCo. "In fact, we have hired 10 of their students, and because of the positive interaction with them, we explored further with Chancellor Salgado and the interim presidents Felicia Davis & Eduardo Garza on how we could expand our efforts into a formal program."
The partnership with PepsiCo will provide students from Olive Harvey College and Daley College with a peace of mind knowing a major employer is waiting to hire them after graduation, according to Salgado