Fruit Orchard Will Add To Selection At West Side Neighborhood Market
3/21/2018, noon | Updated on 3/21/2018, noon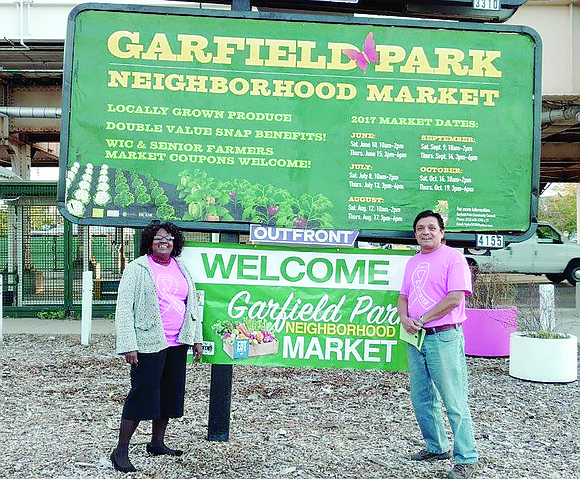 Fruit Orchard Will Add To Selection At West Side Neighborhood Market
BY KATHERINE NEWMAN
The Garfield Park Community Council recently announced that they would be moving forward with plans to create the Garfield Park Eco Orchard in the community that would add a new variety of fresh produce to their existing neighborhood market.
At our neighborhood market, people come and say "where's the fruit?" We are hoping to procure fruits that are indigenous to our region so that we can have them accessible at our neighborhood market." said Angela Taylor, wellness coordinator for the Garfield Park Community Council.
Some of the fruits that they are hoping to grow in the Garfield Park Eco Orchard are apples, pears, plums, blueberries, and the fruits that grow and are harvested within the short warm season in Chicago, according to Taylor.
The Eco Orchard will begin producing fruit in the spring of 2019, according to Taylor. There is still a lot of planning and coordinating that needs to be done to make sure that the orchard is the perfect place to grow healthy fruits.
"We are hoping to have the installation done by the end of the year. Healthwise and thinking rationally, you can't just take trees and plop them in because they aren't going to survive.
For trees that are fruit-bearing you need to be planting them in the spring and we haven't done environmental studies yet for the location so we won't be putting trees in this spring but we are hoping by fall we will be able to do an installation and get the trees acclimated and give them a lot of love and care over the winter and hope everything survives," said Taylor.
Taylor expects to have berries, grown in the orchard, showing up at the farmers market by the spring of 2019 and apples, pears, and plums to be in the market by 2020.
The Garfield Park Eco Orchard will also help to stabilize the Youth Garden Core summer program.
Taylor said she is very excited for the opportunity to expand the neighborhood market which has been in operation for six years and is a valuable asset to the community.
"Our market is awesome. We have survived six years just being a grassroots community market. We don't get vegetables from Wisconsin or Michigan, everything is grown right here in Garfield Park and I think that is breathtaking.
The fact that you can grow enough food to feed a community right inside the community, yeah we do need a grocery store, but we still have the ability to eat and eat healthy, and eat fresh fruit and food...we just have to do the work," said Taylor.
For more information about the Garfield Park Community Council visit www.gpcommunitycouncil.org.