ComEd Approved To Build Bronzeville Microgrid
3/21/2018, noon | Updated on 3/21/2018, noon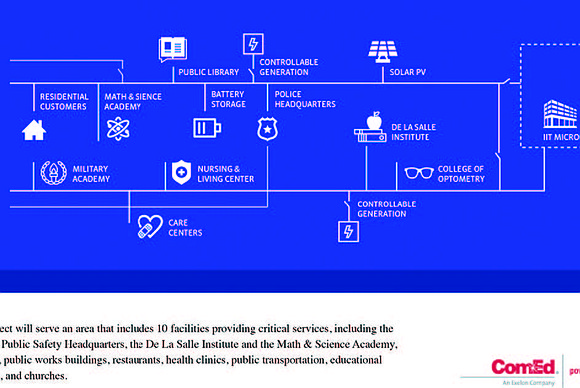 ComEd Approved To Build Bronzeville Microgrid
BY KATHERINE NEWMAN
The Illinois Commerce Commission recently approved ComEd's plan to create a microgrid in the Bronzeville neighborhood. The initiative will serve as an opportunity to study how microgrids can integrate renewable energy sources into the main electrical grid and provide flowing electricity to the area if the main electrical grid were ever damaged.
Michelle Blaise, senior vice president of technical services for ComEd, has been very involved with the microgrid project.
"Right now, the way our electric distribution system is designed, you have a big generating plant that feeds into the power lines and ultimately into your home. A microgrid is where you have smaller local generators. It could be solar power, fuel cells, battery power, and those become small little generators that connect together. If you have a problem in the larger broader gird, you can actually isolate the section that those small generators feed and keep that section in service," said Blaise.
The idea of disconnecting from the larger grid and being able to maintain the flow of power is referred to as 'islanding' and it is possible by creating a microgrid that is powered from local energy sources, according to Blaise.
The microgrid will be almost undetectable in Bronzeville. Physically, the microgrid will use the existing wiring that is already running electricity to the buildings within the boundary. There will be energy generators and controllers placed within the boundary and they will be connected to the existing power lines, according to Blaise.
"Those distributed generation resources, the solar plant, and the batteries, will all be physically close because they have to actually be connected to the wires that are feeding that area. It's not going to be one big box, it will be couple different pieces in the geographical area," said Blaise.
ComEd has been working collaboratively with the Illinois Institute of Technology (IIT), which is already operating on their own microgrid, to develop a controller that will connect the Bronzeville microgrid to the IIT microgrid and allow them
to work together and share resources, according to Blaise.
"What this controller will be is the first of it's kind to enable two micro-grids to work together, share resources, and talk to each other. We are developing that with IIT and other partners. We received a $1.2 million grant from the Department of Energy to develop that," said Blaise.
ComEd received a second grant from the Department of Energy to demonstrate how renewables can work within a microgrid, specifically solar energy, according to Blaise.
ComEd sees the microgrid as the foundation for thinking about what energy and utility will look like in the future, according to Blaise.
"We will be able to test it out in Bronzeville, where there is a great history of creativity and commerce. We see that as bringing technology to Bronzeville and opportunities for the residents to be involved in terms of new skill sets and new jobs," said Blaise.
For more information about the Bronzeville microgrid visit www.bronzevillecommunityofthefuture.com