Chicago Film Maker Previews New Series About Independent Soul Artists
3/21/2018, noon | Updated on 3/21/2018, noon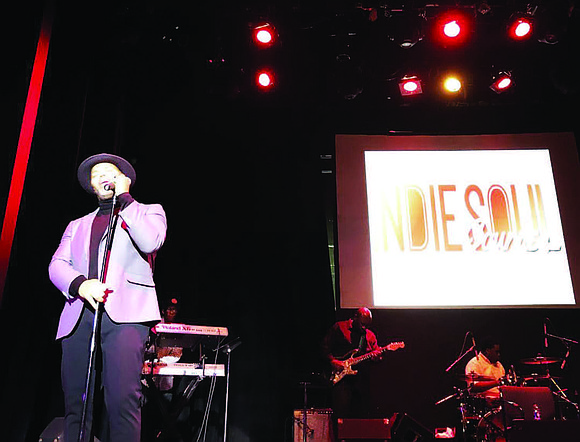 Chicago Film Maker Previews New Series About Independent Soul Artists
BY KATHERINE NEWMAN
Chicago film producer and director, John Jointer, recently held a screening for his newest docu-series, Indie Soul Journeys. The pilot episode featuring Eric Roberson was
premiered at the DuSable Museum of African American History and depicted the inspirational story of how Roberson found success as an independent soul artist and overcame a medical condition that could have ended his career.
At its core, Indie Soul Journeys is a music docu-series featuring thirty-minute episodes featuring different independent artists in each episode. The artists' background is woven through the episode which focuses on a specific instance when the artist has overcome adversity or gone through something difficult that could have changed their life forever, according to Jointer.
"Like with Eric, he came to a crossroads in his career with this very scary vocal cord surgery that had a possibility of ending his career as a singer. We go through how he overcame that while we are giving background on who he is and where he came from," said Jointer.
The over-arching goal of the docu-series is to inspire viewers by showing them that everyone, even well regarded musical artists, face struggles.
"The take away that we are hoping people get from all of the series is a sense of inspiration and gaining something from it where they feel inspired to pursue their passions and understanding that adversity is a bump in the road and it's something that can be overcome," said Jointer.
While creating the series, Jointer noted that is was difficult to compress the complex lives and experiences of the independent soul artists into 30-minute episodes, but that's what makes it a docu-series.
With an individual like Eric you're talking about truncating 20-plus years of his career into a 26-minute show, that's a difficult task to do. You have to identify those turning points, key moments throughout his life that you can focus on while at the same time not losing the essence of their story," said Jointer.
Indie Soul Journeys is still in the production process but they have episodes planned for Avery Sunshine, Maysa Leak, and Anthony David, according to Jointer. They are also preparing to travel to the U.K. to create an episode on Omar Lyefook who is referred to as the King of UK Soul, according to Jointer.
"It's a challenge getting these people to sit still long enough for us to get what we need because performing and touring is how they make their living and how they eat. These are very active and very sought after artists so the coordination of it has been a real challenge, a fun challenge, but a challenge none the less," said Jointer.
The timeline for Indie Soul Journeys is to be finished with production in May or June and have a broadcast premiere in late summer or early fall.
To stay updated on release dates and future screening of Indie Soul Journeys visit www.ifpchicago.org/indie-soul-journeys.