8TH WARD ALDERMAN MICHELLE A HARRIS ANNOUNCES NEW SENIOR RESIDENCE
3/16/2018, 4:54 p.m. | Updated on 3/16/2018, 4:54 p.m.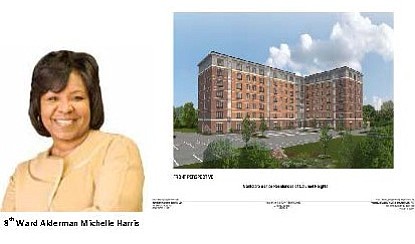 8TH WARD ALDERMAN MICHELLE A HARRIS ANNOUNCES NEW SENIOR RESIDENCE
Montclare Senior Residences of Calumet Heights will provide affordable housing for Seniors
Montclare Senior Residences of Calumet Heights, a proposed new construction, affordable housing development for independent seniors. The Project will consist of a 7-story building with 134 one- and two-bedroom dwelling units, restricted to persons 62 years and older. There are 101 one-bedroom units and 33 two-bedroom units. Thirty (30) of the 2-bedroom units are market rate units.
For clarification, this is not a CHA development, nor CHA housing. The project is subsidized by CHA to assist independent seniors through the Property Rental Assistance (PRA) program. PRA is a multi-year commitment for a given number of units to assist Chicago citizens to obtain housing stability. The 2017 published maximum income for a single-person household is $44,250. Households that benefit from PRA pay 30% of their income towards their rental expense.
Montclare Senior Residences of Calumet Heights is being privately developed by MR Properties, LLC and managed by Pacific Management, the principals of MR Properties, LLC have been active in real estate development in the Chicago Area for over 40 years. Pacific Management, Inc. Property management will be maintained on the premises.
The project's estimated total development cost is approximately $38.6 million. The development will be financed with a mix of public and private sources. The project was approved by the Illinois Housing Development Authority (IHDA) September 29, 2017. Low-Income Housing Tax Credit (LIHTC) is the federal government's primary program for encouraging the investment of private equity in the development of affordable rental housing for low-income households and the project has a 2017 LIHTC allocation of $1,500,000, and has applied for Donation Credits, and gap financing. The City of Chicago intends to provide financial assistance in the form of HOME and TIF.
Development amenities will include a community room with warming kitchen, fitness center, media room, arts and crafts room, library, computer lab, beauty salon and laundry. Exterior amenities will include a landscaped recreation areas, walking paths, a gazebo and large patio. There will be ample parking for residents, visitors and employees. Unit amenities include kitchens fully equipped with range, oven, refrigerator, dishwasher, microwave and tenant controlled heating and cooling. Each unit will be wired for high speed internet and cable TV.

In addition, the facility will have a room designated for the Chicago Police Department, to write reports, have a cup of coffee and maintain a presence on the premises.
The goal for construction is to exceed 40% minority participation, which was the percentage for the Montclare Senior Residences of Avalon Park. The architect is an African American who resides in the 8th Ward.