Upcoming Food Drive Restocks South Suburban Food Pantries
3/14/2018, noon | Updated on 3/14/2018, noon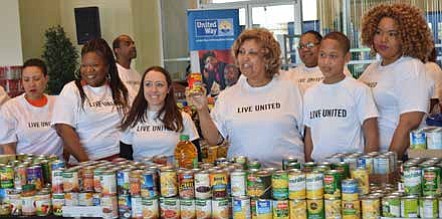 Upcoming Food Drive Restocks South Suburban Food Pantries
By: Katherine Newman
Several South Suburban business and municipalities are beginning to take donations for the sixth annual April Food Day hosted by the United Way of Metro Chicago. Starting now, the various drop off locations will collect and store donations until April 25 when the official sorting and distribution event takes place at Tinley Park Convention Center.
April Food Day began in 2013 when a United Way of Metro Chicago noticed that food pantries needed help restocking their shelves after the holidays. Since then, it has been a compounding event, getting bigger every year and drawing in participation from schools, villages, and private businesses across the South Suburbs, according to Maya Hardy, chief professional officer and partner engagement for the South-Southwest Suburban Region of United Way of Metro Chicago.
"At our first April Food Day, we raised just over 55,000 pounds of food and last year we raised a little over 109,000 so every year we have increased.
To me, 109,000 pounds of food was crazy, we were running out of space but it's really great and I'm excited. We are working with eight pantries this year so we have expanded form three pantries to eight and 55,000 pounds of food to 109,000 pounds of food," said Hardy.
Volunteers are welcome to come and help sort food at the April Food Day event. Organizers do their best to make sure the donations are sorted and divided evenly among all of the food pantries.
They don't want one pantry getting a surplus of one particular item while another doesn't have enough of it, according to Hardy.
"We always ask for volunteers and we even have people just stop by to see what's going on and end up staying to help for a little bit and that's amazing.
If anybody wants to volunteer or be a drop off location, you can," said Hardy.
A great donation consists of non-perishable, unexpired, canned or boxed food. 100 percent fruit and vegetable juices, bagged rice and beans, canned fruits and vegetable with pull tops, cereal, oatmeal, granola bars, chips, cookies, crackers, canned meats and stews, peanut butter, and jelly and examples of appropriate food donations.
Aside from food pantry items, personal hygiene products such as soap, shampoos, toothpaste, feminine products, laundry detergent and infant supplies including food are also donated.
"Last year we had laundry detergent, shampoo, toothbrushes, toothpaste, you
know these donations go to a food pantry but people have all kinds of needs. We can use any kind of soap, toiletries, and anything that falls into that category," said Hardy.
Donation drop offs can be made in the South Suburbs at National Able Network, 202 S Halsted St, ATOC Building, Suite 148 in Chicago Heights, Chicago Southland Convention & Visitors Bureau, 2304 173rd St in Lansing, The Matteson Community Center, 20642 Matteson Ave, in Matteson, and at the Village of Park Forest Health Department, 350 Victory Drive on the lower level.
For more information about April Food Day and for a full list of the drop-off centers, visit www. uw-mc.org/event/april-food-day-2018/.