Thornton Township Honors Women Who Improve Their Communities
3/14/2018, 12:34 p.m. | Updated on 3/14/2018, 12:34 p.m.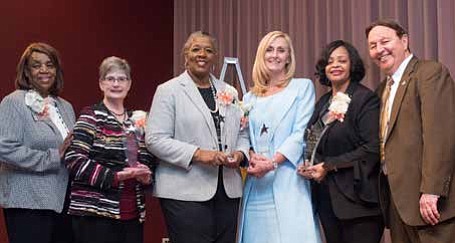 Thornton Township Honors Women Who Improve Their Communities
By: Katherine Newman
Over 200 people recently attended Thornton Township's 10th annual Women
of Honor Brunch. The brunch is held every year during women's history month and this year, Joyce Forbes, Rose McGill, Vivian Payne, and Dr. Sallie D. Penman were honored for the work that they do in their communities.
"We do this as part of Women's History Month and to just acknowledge some of
the wonderful work that these women do throughout the year that really helps people improve their quality of life," said Ernst Lamothe Jr., community relations manager for Thornton Township.
Honoree Joyce Forbes currently serves as a Trustee for Hudson Township. In the past, she held a seat on, and served as President, of Dolton Riverdale School District 148 School Board. Forbes served as Clerk for the Village of Riverdale, president of the Municipal Clerks Association of South and West Suburbs of Cook County, and President of Municipal Clerks of Illinois, according to the Women of Honor Profiles released by Thornton Township.
Honoree Rose McGill is a community activist and has been a leader in the South Suburbs since the late 1960's. She founded Rose's House of Charm to help young people improve their self-esteem and break into acting and modeling, according to the Women of Honor Profiles.
Honoree Vivian Payne is a Thornton Township native, she was recently added to the South Suburban College Board of Trustees and holds the position of Village Clerk in Lansing where she has lived for 24 years, according to the Women of
Honor Profiles.
Honoree Dr. Sallie D. Penman is currently the South Holland Village Clerk. Penman has an extensive volunteer history including community service on the South Holland Planning and Development Commissions, South Holland Neighborhood Groups Committee, the South Holland Fireman's Pension Board, the Thornton Township High School District 205 Academic Enrichment Foundation, and the South Holland Education Commission, according to the Women of Honor
Profiles.
Thornton Township is made up of 17 different villages and towns in Chicago's South Suburbs and home to about 182,000 residents, according to Lamothe. In preparation for this event every year, the human relations commission and Thornton Township Supervisor Frank Zuccarelli, get together and select honorable women that represent the diverse communities that makeup Thornton Township.
"We all get together and we look at people who we have honored in the past because we don't want to repeat ourselves too much. We try to look at a variety of community organizations and we want to make sure that we are getting people from There are a lot of women working in municipal government and behind the scenes in various community organizations, these are the type of people that Thornton Township is looking to honor.
"We definitely want to honor, not necessarily the officials but, the people who are behind the scenes, many who don't want any attention. We have to bring them back from the shadows and put them in the forefront because of the amazing work they do and because they are somebody who is never looking for
attention," said Lamothe.