Ninth Annual Woodlawn Community Summit Revolves Around Change
3/14/2018, noon | Updated on 3/14/2018, noon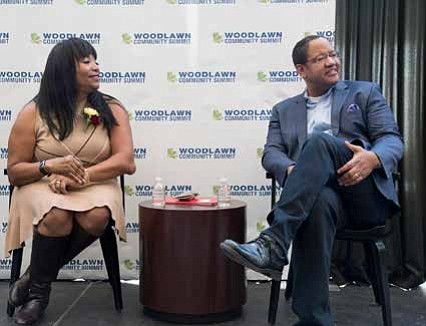 Ninth Annual Woodlawn Community Summit Revolves Around Change
By: Katherine Newman
Community leaders, government officials, and residents of Woodlawn all gathered recently at the ninth annual Woodlawn Community Summit held at the University of Chicago. The event is held every year as a way to encourage collaboration within the Woodlawn community. The theme of this years summit was Woodlawn; A New Urban Mosaic.
The keynote speaker for the summit was Melody Spann-Cooper, chairman of Midway Broadcasting Corporation. She talked about her pride in being a lifelong Chicago resident and gave an encouraging message to the Woodlawn community about the changes and new development coming to the area.
"We are powerful people with choices and when people refer to our city as something dark and depressed they really lose me. When it comes to Chicago I see nothing but runways and bright lights and one of those bright lights in this mosaic is the community of Woodlawn. I think it is safe to argue that no neighborhood in Chicago has more assets than Woodlawn," said Spann-Cooper.
Woodlawn is long overdue for new investments, according to Spann-Cooper. She said that some change is good and some change is bad but it is inevitable. "Anything that does not grow dies," said Spann- Cooper. "The South Side will be what we make it and we have everything we need to be great."
Change on the South East side of Chicago is so inevitable because of the coming Obama Presidential Center to Jackson Park. The Barack Obama Foundation sent their Vice President of Civic Engagement, Michael Strautmanis, to speak about the mission of the Obama Center at the summit. He spoke in detail about the visitor experience which often gets lost between disagreements about design plans and fears of current resident displacement.
"Our mission is to engage people to make a change in their communities. To work for things that are going to improve their lives and their neighborhoods. That is the mission of President Obama and that is what his work is always going to be about," said Strautmanis. "We have to put the story of this president in the context of everything that came before him, the civil rights movement,Harold Washington, and the leaders of Woodlawn community. Our hope is that when you see this museum and come visit it you not only learn about the presidency but you also learn about and see yourselves in these stories."
With big changes on their way to Woodlawn, both Strautmanis and Spann-Cooper see this as a time for investment in the community. "I reject the notion that there is some odd conspiracy to move us out," said Spann-Cooper. "The residents of Woodlawn, many of you have lived here for years, invested when no one else would and stayed while others have fled. You did that because you have vision."
For more information about the Woodlawn Community Summit and to prepare for next years event visit www.woodlawnsummit.com Photo Caption: Community leaders recently broke ground on a new Jewel-Osco coming to the northwest corner of 61st St. and S. Cottage Grove Ave. in Woodlawn. The 48,000 square foot store will provide quality food options to the neighborhood as well as a 24-hour pharmacy. Photo Credit: Preservation of Affordable Housing