Military BOOTS Program Connects Youth With Military Opportunities
3/14/2018, noon | Updated on 3/14/2018, noon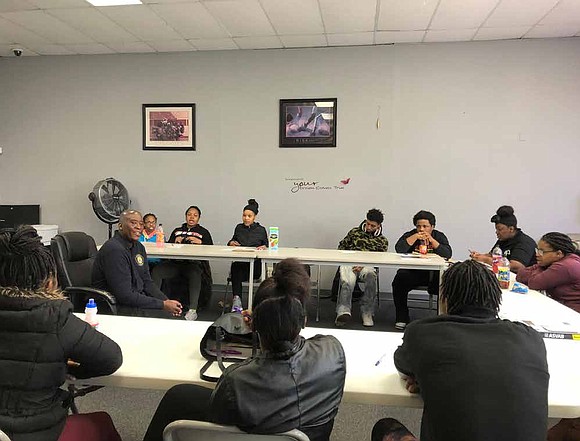 Military BOOTS Program Connects Youth With Military Opportunities
By: Katherine Newman
Community Assistance Programs (CAPs) recently held an introductory presentation for their new Military BOOTS program. The program was created to provide information about military jobs to disconnected youth from age 18 to 24 who are unemployed and out of school.
Military BOOTS (Beyond, Objectives, Obstacles, Training Science) is being offered, by CAPs, at no cost to the student and prepares participants to pass the U.S. Military Armed Services Vocational Aptitude Battery (ASVAB) entrance exam. Students receive a minimum of 80 hours of intensive training to prepare for the ASVAB test and guidance on how to thrive in military life, according to a media release from CAPs.
The program was created to better serve young people who aren't interested in traditional employment and through Military BOOTS they can explore the opportunities for employment and education that the military offers.
"The Military BOOTS program came about just to give the youth different options because they might not want to work in a restaurant and it gives them also the opportunity to go into the military and have the military pay for their education," said Taronica Boone, case manager for all youth programs at CAPs.
"For some students, they may not be able to pay for a college degree and the military is something that will assist them in doing that. I feel like it's important because it gives them more options than they would have if they worked a traditional job."
The Military BOOTS program works with a military instructor from California who recently traveled to Chicago to work with CAPs and the young people in the Military BOOTS Program. The instructor helped to educate the youth on military ethics, budgeting, and walk them through the ASVAB test to make sure those interested in going to the military are prepared for the test and the lifestyle, according to Boone.
The program also includes experiential excursions to military-related activities and will also address myths about joining the U.S. military, according to a media release about the program from CAPs.
"The military instructor also arranged field trips, or excursions, to different military style simulations. One of them is iFly where the students go and do skydiving simulations and another one is iCombat and they go to a laser gun facility to get the impact of the military guns and machinery," said Boone.
CAPs is a not-for-profit employment agency that provides employment training and job placement services, according to the CAPs website.
"We assist everyone, not just 18-24 year-olds, in doing job readiness training that will assist them to get better-paying jobs in the community so that's what we target. We are just helping our citizens in the Chicagoland area to get better jobs so they won't have to work an $8.25 an hour job," said Boone. CAPs has two Chicago offices, one in Chatham, 8455 S. Cottage Grove, and another in Roseland, 11717 S. Halsted.