DuSable Museum Founder Wanted Black People To Understand Africa
3/14/2018, noon | Updated on 3/14/2018, noon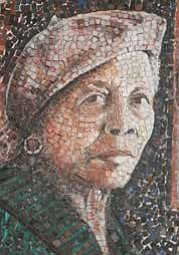 DuSable Museum Founder Wanted Black People To Understand Africa
By: Katherine Newman
In 1961 Dr. Margaret Burroughs and her husband founded the Ebony Museum for Negro History on the first floor of their home. The museum eventually grew out of their home at 3806 S. Michigan Ave. and in 1973 they moved their collection to Washington Park and became the DuSable Museum of African American History.
Before establishing the museum, Burroughs was an art teacher at DuSable High School and noticed that a lot of her students lacked an understanding of black history, according to Skyla Hearn, chief archivist at the DuSable Museum of African American History.
"She taught art at DuSable High School, a predominately black high school, and during that time she recognized that a lot of children didn't have an understanding of their history. A large part of the reason for establishing the museum was to address this particular void. She really wanted people, not just her students, but all black people to be able to understand their origin," said Hearn.
Burroughs, her husband Charles, and a few of their close friends began to build a collection of artifacts and artworks to display in the Burroughs' home that would
speak to the black experience, according to Hearn.
This discourse began to happen where people were meeting in this space in her home museum to discuss these objects and what their relationships are to
America and to Africa," said Hearn. "It became this very popular and important place in the community."
Throughout the 60's Burroughs' museum became more and more popular. Many African Americans were interested in visiting to learn about Africa and their
relationship to the country. It was with the support of the community that the museum was able to make the move into a bigger space in Washington Park which it still occupies today.
"We have these beautiful buildings that supported the growth of Dr. Burroughs initial grass-roots passion project from her home into this larger space and into a
more structured institutionalized organization which still meets the needs of the community members, who are the people she first initially was focused on," said
Hearn.
The museum was recently awarded a $150,000 grant from Google to incorporate technology into its infrastructure and future installations, according
to a statement from DuSable Museum. This is an opportunity to expand, according to Hearn.
"The way that I see it is that technology provides a wonderful opportunity for expansion. It is definitely building on her legacy because the important thing here
is the transference and sharing of knowledge and the continuous growth of knowledge. It's just providing us with additional tools to be able to do that," said Hearn.
After her death in 2010, the legacy left by Burroughs has continued to speak to staff at the museum.
"Her spirit permeates throughout the institution," said Hearn. The museum is currently working on an exhibit, set to open in Sept., that will be primarily focused on Burroughs and her life's work, according to Hearn.