BIRKENSTOCK Receives Award as Brand of the Year and Wins Category for Excellence in Design Sandals
3/14/2018, noon | Updated on 3/14/2018, noon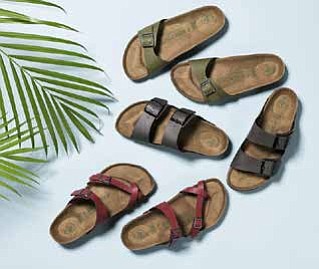 BIRKENSTOCK Receives Award as Brand of the Year and Wins Category for Excellence in Design Sandals
BIRKENSTOCK Receives Award as Brand of the Year and Wins Category for Excellence in Design Sandals Recently the Footwear Plus magazine announced the winners of the 19th annual Plus Awards. As in the previous year, BIRKENSTOCK has been awarded twice: this time Germany's original global comfort shoe brand has been named as "Brand of the Year" and for the second consecutive year has won the award for "Excellence in Design Sandals". Created by Footwear Plus, the industry's leading fashion trade magazine for nearly 30 years, the annual Plus Awards are the only accolades determined by the votes of industry members and consumers.
The winners are determined by thousands of online voters within and outside the industry who could place online votes from November 29 to December 31, 2017. The prizes are cosponsored by the Fashion Footwear Association of New York (FFANY) and Jones & Vining.
"We are proud to be recognized with not one, but two Plus Awards – especially Brand of the Year. To be recognized by the industry for what we are accomplishing is very satisfying. In the year ahead, we will take Birkenstock to an even higher level as we focus on serving our retail partners and our consumers with more innovative product and great service," said David Kahan, BIRKENSTOCK Americas CEO.
"Congratulations to Birkenstock on winning the Plus Award for excellence in the Sandals and prestigious Brand of the Year categories," said Greg Dutter, Editorial Director of Footwear Plus. "The legendary brand continued to fire on all cylinders in 2017: offering exciting designs and innovative retail concepts as well as positioning itself for solid growth in the years ahead.
In a time of great industry upheaval, BIRKENSTOCK has been a brand its retail partners can bank on," added Greg Dutter, Footwear Plus Editorial Director.
BIRKENSTOCK has already been honored with six Plus Awards in total, including the recent accolades. The category "Excellence in Design Women's Comfort" for instance, was granted to the German heritage brand for the three years in a row from 2014 to 2016.
The award-winning Footwear Plus magazine is the leading B-2-B fashion publication of the footwear industry. In a world of instant messages, texting, daily e-mail blasts, junk mail, 24-hour news outlets and tickers across the bottom of countless TV channels, Footwear Plus is commonly being valued as a magazine in the truest sense of the format: in depth, comprehensive and analytical, not to mention beautiful. Industry leaders rely on Footwear Plus to educate, inform, provoke and inspire.
In other news, BIRKENSTOCK received the peta2 Libby Award "Most Vegan-Friendly Shoe Company 2017." With this award, which is highly regarded throughout the global vegan community, the youth organization of PETA USA is honoring Germany's largest shoe manufacturer for its commitment to producing fashion without animal products. For the 12th time, companies and celebrities were awarded in the categories of Heroes, Food, and Lifestyle. peta2 had invited young people from around the world to vote online. Never before in the history of the award has participation been higher – the number of voters more than doubled compared with last year. For BIRKENSTOCK, this is already the second award from the world's largest animal rights organization. In September 2016, PETA Deutschland presented BIRKENSTOCK with the "Vegan Fashion Award" for a vegan model of the iconic sandal style "Madrid."