South Suburban Students Honored For Quick Thinking In Dangerous Situation
3/7/2018, 4:13 p.m. | Updated on 3/7/2018, 4:13 p.m.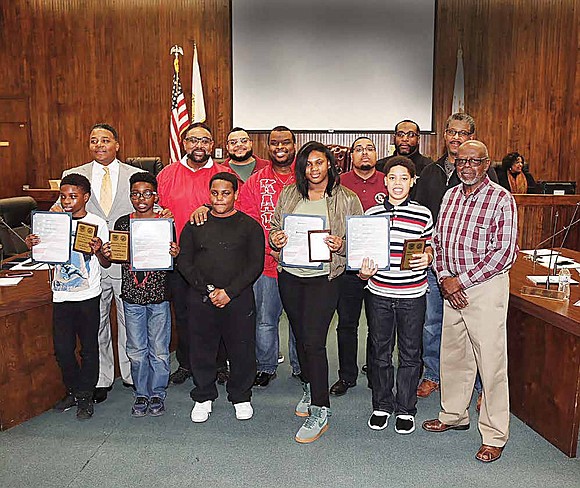 South Suburban Students Honored For Quick Thinking In Dangerous Situation
By: Katherine Newman
The City of Harvey along with Harvey- Dixmoor School District 147 honored the six students from Rosa Parks Middle School at a recent city council meeting. The students were honored for their courage and bravery when they found a loaded gun near the school and acted quickly to notify the principal. On the morning of Feb. 20th, six students found a loaded semi-automatic weapon in a grassy area near the entrance of the Rosa Parks Middle School.
The students devised a plan for three of them to go into the school and get help while the other three stayed with the weapon to make sure all of the other kids were safe and couldn't touch the weapon, according to a media release from the City of Harvey.
"These young people are really heroes. More importantly, it was really a teachable moment from a state, national, and global perspective when you have young children like that making some critical decisions in a split second.
What they did when they decided to have three watch the gun while three went to alert the principal was just a phenomenal decision and I certainly applaud them," said Mayor of Harvey, Eric Kellogg.
Mayor Kellogg arranged for the students to ride with a police escort from Rosa Parks Middle School to the city council meeting at Harvey City Hall.
"Chief Greg Thomas and I escorted the superintendent, the board president, and the children from Rosa Parks Middle School. We put lights and sirens on and escorted the kids in a heroes parade and they really enjoyed it," said Kellogg.
The students were formally honored at a recent city council meeting where they received a recognition from the Mayor, Harvey-Dixmoor School District 147 Superintendent Johnetta Miller, and School Board President Bonnie Rateree along with a plaque of honor.
"When you have six students making these types of decision and choices it speaks to their parents, the school system, the city that they live in. What happened at the city council meeting was a collaborative approach to recognize some outstanding young men and a young lady who made the right choice to do the right thing who had a convicted heart to make the right decision," said Kellogg.
Kellogg was impressed by the bravery of the students and attributes their ability to make good choices to the positive
influences in their lives and the community.
The community coming together to honor the students would not have been possible without significant efforts from the superintended and the board president, according to Kellogg.
The reason for a gun being near the school is still under investigation.