Malcolm X College Received LEED Gold Certification
3/7/2018, 2:45 p.m. | Updated on 3/7/2018, 2:46 p.m.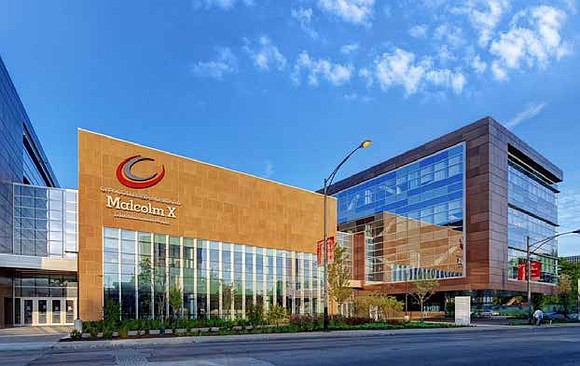 Malcolm X College Received LEED Gold Certification
By: Katherine Newman
Malcolm X College recently received LEED Gold Certification from the U. S. Green Building Council for its successful efforts to make the new building, opened in Jan. of 2016, a sustainable addition to the community.
Leadership in Energy and Environmental Design (LEED) is a certification program that provides independent verification of a building's green features. The program encourages the design, construction, operation, and maintenance of resource-efficient, high-performing, healthy, cost-effective buildings. LEED is the most widely used green building rating system in the world, according to the U.S. Green Building Council.
"We are always looking for ways to impact the community in a positive way. We are a community college, that's what we do. There was a desire to ensure that we were building a building that was not only functional, but was a beacon for the community that incorporates the best practices and sustaining energy is one of those best practices," said David Sanders, Malcolm X College interim president.
Buildings applying for LEED certification are evaluated and receive points based on nine basic areas of sustainability. The nine areas include integrative process, location and transportation, sustainable sites, water efficiency, energy and atmosphere, materials and resources, indoor environmental quality, innovation regional priority, according to the U.S. Green Building Council.
With so many areas of sustainability to choose from, the college wanted to make sure that what they implemented was not only financially feasible, but also provided functionality, according to Sanders.
A major feature of the new building is a green roof that covers 25 percent of the building. The green roof is a functional area that serves as an academic space and is home to several indigenous species of plants from the region, according to Sanders.
"We have had many courses that have held a class on the green roof. There is an area that is set for planting items that would be utilized in our biology and chemistry classes like aloe vera, acai, and things like. It gives students the opportunity to work with real plants and biological systems within their courses," said Sanders.
It was important during the design of this building to make sure that there was a balance between functionality and energy efficiency, according to Sanders.
"One of the biggest things we did was incorporate a rainwater harvesting system which is one of the first ones in the state and was actually certified by the state of Illinois. We are using rainwater in our irrigation systems which is an absolutely wonderful and sustainable feature of the building," said Sanders.
There is also a one hundred percent on-site stormwater system at the college, according to Sanders. "We basically have built some underground canals that carry water around the building to prevent flooding and to get it into the sewer system in a slower way.
It allows the water to trickle down into the system rather than hit the system immediately which would potentially over flood the system and cause flooding within the building," said Sanders.
The building also features LED lighting with lighting control systems that automatically turn the lights off when no one is in the room and reflective roofing that reduces solar heat which increases overall energy efficiency, according to Sanders.
All of these features led to Malcolm X College receiving Gold, the second highest LEED certification.