LUCKY PLUSH BRINGS SIGNATURE DANCE, THEATER, HUMOR TO THE HARRIS WITH TAB SHOW
3/7/2018, 1:59 p.m. | Updated on 3/7/2018, 2 p.m.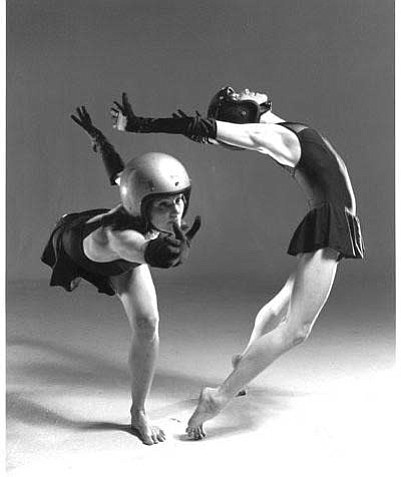 LUCKY PLUSH BRINGS SIGNATURE DANCE, THEATER, HUMOR TO THE HARRIS WITH TAB SHOW
Lucky Plush Productions returns to Chicago's Harris Theater in Millennium Park Thursday and Friday, April 26 and 27, with Tab Show, featuring two works - Rink Life and Curb Candy - that highlight the company's signature blend of layered choreography, witty dialogue, and socially relevant storytelling.
Tab Show takes its name from an early 20th century short - or "tabloid" - version of a musical comedy, usually performed alongside other sampler-style entertainment as part of a traveling road show.
Tab Show opens with Rink Life, a dance theater work loosely inspired by classic roller rink culture, where people seamlessly move between anonymity and community, individual stylings and group dynamics, movement and song. The sound design is entirely generated by the performers and builds upon disparate fragments of information - partially overheard conversations, musical scales, and pop-song earworms.
Rink Life builds upon Cadence, a work that Lucky Plush artistic director Julia Rhoads created for Hubbard Street Dance Chicago in 2017 with music collaborator Bethany Clearfield (Grant Park Chorus, Chicago Symphony Chorus, and the band Outertown).
The second act features Curb Candy, which includes re-mixed excerpts from Lucky Plush repertory presented in an entirely new work. Look for favorite moments from the Lucky Plush dance theater canon including Surrelium, Endplay and Punk Yankees, performed by Lucky Plush ensemble members Kara Brody, Michel Rodriguez Cintra, Elizabeth Luse, Rodolfo Sánchez Sarracino, Aaron R. White and Meghann Wilkinson. Guest performers Enid Smith, Jacinda Ratcliffe, and Ethan Kirschbaum join the company for this special performance.
Tab Show begins at 7:30 p.m. both nights. Tickets are $25-$70. The Harris Theater for Music and Dance is located at 205 E. Randolph St. in Chicago's Millennium Park. Purchase tickets online at HarrisTheaterChicago.org, or call the Harris Theater Box Office, (312) 334-7777.