LeZazzu.shop opens in the U.S.
3/7/2018, 3:15 p.m. | Updated on 3/7/2018, 3:16 p.m.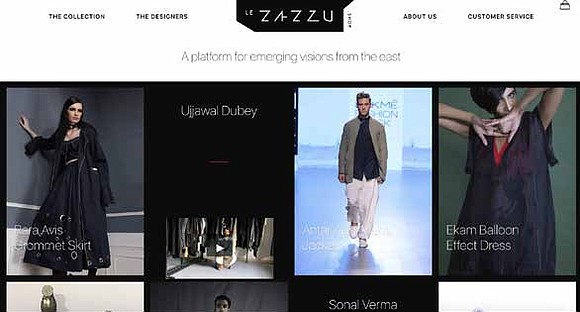 LeZazzu.shop opens in the U.S.
LeZazzu.shop, a first-of-its-kind online platform showcasing Asian designers of contemporary fashion, recently celebrated its grand opening in the U.S. Founded by trailblazing stylist Monika Anush, LeZazzu focuses on emerging contemporary designers
from Mumbai, Delhi and throughout India and beyond, whose sophisticated work features ornate detail, rare fabrics and striking silhouettes.
LeZazzu.shop keeps its highly curated collections and philanthropic mission at the forefront. "When you shop here, you discover unique pieces that are typically not found in the U.S., while also supporting emerging visionaries," Anush said. "A share of our profit goes directly to developing new talent by contributing to their initial funding."
Mumbai-raised and New York-based Anush says, "It's time for fashion to evolve." A former health care executive, Anush has now turned her passion for design and whimsical personal taste into a full-time pursuit.
"This is for every kind of American woman," Anush says of LeZazzu's audience. "My goal is to expand everybody's mindset, everybody's fashion knowledge. Of course, there are stereotypes
about Indian fashion," she says, "that it's only about loud colors and beautiful weddings and elephants. But there is so much more
to it than that and that's exactly what I want to shed light on."
The contemporary designers that Anush has personally curated for LeZazzu.shop draw from traditional Indian and Far Eastern cultures, as well as Western influences to create entirely new fashion categories.
Among them, Manish Gupta, who was named Best Urban Designer last year by Grazia magazine, and who concentrates on classics. Chandan Gandhi is on a mission to add color to menswear. Global traveler Nitya Arora, whose custom jewelry line Valliyan has been featured in Vogue and Elle, designs cross cultural pieces influenced by the many countries she has visited.
Designer Nimish Shah, founder of SHIFT, is changing global thinking about fast-fashion, creating eco-minded clothing that consumers will keep or recycle. And Sonal Verma designs leather pieces that work in every season.
The goal, says Anush, is to involve consumers in the stories of
these designers and their creations. "You don't just buy their clothes," she says, "you contribute to and participate in their vision."
"Everything has a sense of style," she adds. "It's not about runof- the-mill jeans and tops. It's edgy. It's about designers who are doing specialty work, who we plan to graduate to the Barney's of the world."
New York-based Anush – a former health care executive who has turned her lifelong passion for design and finely honed personal taste into a full-time pursuit – grew up in Mumbai during the 1980s where she fell hard for Western pop culture.
TV imports such as "Baywatch," "The Wonder Years" and MTV, as well as iconic musical acts Guns N' Roses, Metallica and The Eagles, all played a role in her developing sense of style, as did her two sisters who were more than a decade older.
"I think my mother was concerned that I wanted to live in my jeans! This is not to say I never wore a sari. I have some beautiful
pieces that I would wear occasionally and that I will definitely pass down to my daughter. But I was always more comfortable in contemporary clothing."
Now her wardrobe, like LeZazzu itself, is diverse – as is the
company's mission. "As I've grown older I've wanted to collect intricate, amazing pieces," said Anush. Taking LeZazzu beyond the surface of fashion – she has created a world that bridges one-of-a-kind handcrafted art from tribes in Asia, with the Western world.
Sales from LeZazzu.shop are limited strictly to the U.S. for now. Clothing is manufactured in India and shipped from the U.S. within three business days.
"I want a diversity of weaves and exquisite embroidery," she says. "I want to expand what it means to have Indian customs by showcasing these wonderful, modern designers, helping them to develop their visions and seeing that they flourish." SOURCE LeZazzu.shop