Collective of Black Female Artists Opens Exhibit at South Side Community Art Center
3/7/2018, 3:39 p.m. | Updated on 3/7/2018, 3:39 p.m.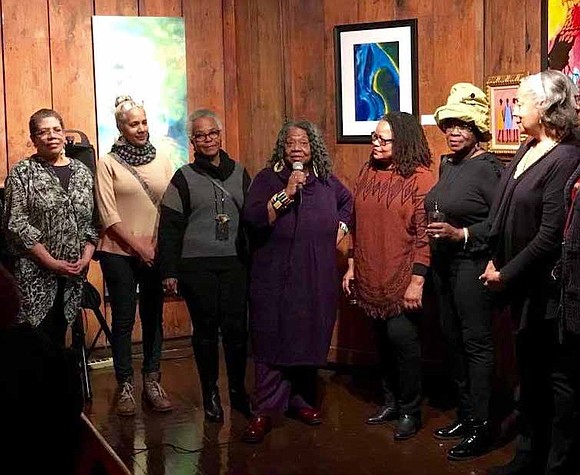 Collective of Black Female Artists Opens Exhibit at South Side Community Art Center
By: Katherine Newman
The South Side Community Art Center (SSCAC) recently opened an exhibit from Sapphire and Crystals titled Looking Forward With Love: Lessons Learned From Our Past. The exhibit showcases a variety of art pieces created by African American women.
Sapphire and Crystals is an evolving and diverse collective of female African American artists founded in 1987. It is about 14 African American artists altogether working under the name of Sapphire and Crystals.
Sapphire and Crystals showcases the strength of the African American female artists and has been around for thirty plus years, said Natalie Battles-Reed, office manager at SSCAC.
The diverse show features sculpture, mixed media, paintings, found object artwork, drawings, and photography, Battles-Reed explained. One special feature that has been incorporated into the show is an alter that pays respect to the artists that have inspired
the collective.
"One thing that Sapphire and Crystals does at each of their shows is they have an altar where they pay respect to some of those original artists that inspired the group to start as well as some of the members that have passed away during those thirty plus years and other amazing artists that have inspired their work
throughout time," said Battles-Reed.
They typically do three to four shows a year in the main gallery of the SSCAC. Each show has a different purpose and theme. With each show, there is an opening ceremony, an artists talk and a closing ceremony, Battles-Reed stated.
"With this show, we felt that it would be really important to have Sapphire and Crystals to come to the SSCAC and showcase some of the work that the women are doing now," said Battles-Reed. One of the main goals is to promote African American art as well as the artists themselves. With each exhibition, there's an opening and closing reception where artists get a chance to discuss their work with the public, she added.
The artists' talk for the Sapphire and Crystals exhibit will be held on March 9th at the SSCAC, 3831 S. Michigan Ave. The SSCAC was founded in 1940 by Margaret Burroughs. It is the oldest African American art center and collectible institution in the nation, according to Battles-Reed.