Chicago Author's Book Selected As Clever Creativity Item For Gift Bag On Hollywood's Biggest Night
3/7/2018, 2:11 p.m. | Updated on 3/7/2018, 2:11 p.m.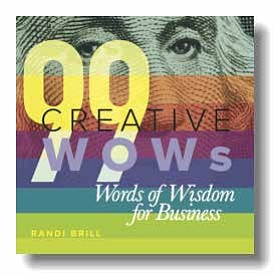 Chicago Author's Book Selected As Clever Creativity Item For Gift Bag On Hollywood's Biggest Night
Writing a creativity book is one of Chicagoan Randi Brill's big milestones and she just reached another. Her new book, 99 Creative WOWs— Words of Wisdom for Business, was selected to be part of the "Everyone Wins" Nominee Gift Bags honoring the best and brightest Oscar® nominees in the top five major acting and directing categories (Best Actor, Best Actress, Best Supporting Actor, Best Supporting Actress, Best Director).
The "Everyone Wins" Nominee Gift Bags are NOT affiliated in any way with the OSCARS® or the Academy of Motion Picture Arts & Sciences.
A.M.P.A.S. does not award, sponsor, endorse or provide these Gift Bags. Neither the Academy nor Distinctive Assets wants there to be any association in the media between the "Everyone Wins" Gift Bags and the OSCARS® or the Academy.
Generating feverish global interest from countless media outlets that find the story irresistible, these Distinctive Assets Gift Bags have come to be eagerly anticipated by the nominees themselves. And, gift/goodie bags are right up Brill's creative alley.
Long touted "The Creative Goodie Bag Queen," Brill has been curating her own bags for the nation's top educational publishers for decades.
So, upon hearing this news, Brill's unbridled creativity took off yet again. "When I learned 99 Creative WOWs—Words of Wisdom for Business will be part of this 'bag to top all gift bags,' I knew I had to rapidly dream up a WOW!- worthy presentation for these savvy celebrities.
The Celebrity Creativity Kit! is an out-of-the-box presentation of the book that's personalized for each recipient," says Brill. The kit is filled with an array of creative supplies to inspire these top celebs to explore and enjoy these meaningful words of wisdom—and tap into their own WOWs. "
To know Meryl Streep, Octavia Spencer, Christopher Plummer, Denzel Washington, Jimmy Kimmel, and so many other talented creative powerhouses will explore this and further spark their own already amazing creativity is incredible.
This kind of discovery is why I wrote and designed the book in the first place." "So well designed are Randi's WOWs that every page turned creates a stimulus for change/improvement/ learning… Randi Brill has created the go-to book for the fast track to success no matter the level of the reader.
This is an indispensable, must-read book on every level." Grady Harp, Amazon Top 100 Hall of Fame Reviewer Simultaneous entrepreneur Brill's inspirational quick-read book helps all creative and business types fast track new paths to excellence through the creative, business, and personal life lessons Brill learned the hard way.
Ideal for Hollywood's winning combinations of both creativity and business, Brill's pocket-sized and portable book of WOWs will soon be in the hands of talented and highly creative celebrities and business leaders, alike.