Soulful Chicago Book Fair Showcases Black Authors
6/27/2018, noon | Updated on 6/27/2018, noon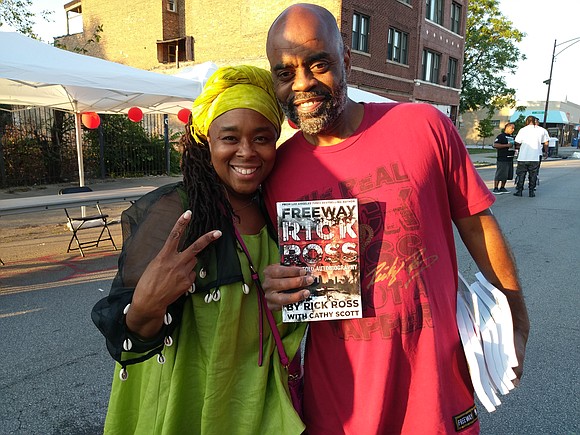 Soulful Chicago Book Fair Showcases Black Authors
By: Katherine Newman
The Soulful Chicago Book Fair is returning for a third year on July 15 from 10 a.m. to 8 p.m. on 61st St. between S. Cottage Grove Ave. and Dr. Martin Luther King Jr. Dr. in Woodlawn. The event showcases African American authors and provides live entertainment and great food options.
"Being an author, it was important for me to have a place where black writers got a decent stage because you have many of us out here now who are self-published and there is a difference in the industry where, if you are a self-published author, you may or may not get carried by a store, an agent, or a publishing company," said Asadah Kirkland, author and founder of the Soulful Chicago Book Fair.
In creating the Soulful Chicago Book Fair, Kirkland wanted to give those self-published black author an opportunity to share their stories.
"My thing is, who has time to be waiting for permission to come out? The Soulful Chicago Book Fair is an avenue for writers who speak about a ton of issues in the black community that never really get to be heard in mainstream and it gives each author a stage," said Kirkland.
The book fair takes up four city blocks and each block is a different theme or writing style. One block is fiction writing, another is non-fiction, one block is designated for children and children's story writer, and finally, there is are two stages for professional and local performers.
People can come to buy books, meet authors, children can play and read, there will be live music, and a food truck festival.
"The addition we have this year, that started last year, is the Woodlawn food truck festival and that's where you have food trucks now with all different types of cuisine set up at the opposite end of the main stage at our festival so people are eating incredible food and just having a really awesome time doing everything and anything literary," said Kirkland.
Even though Kirkland is not from Chicago, she started the Soulful Chicago Book Fair as a way to show the world the talented black writers, performers, and artists that live in Chicago.
"Chicago has a level of excellence in the black community that doesn't get promoted at all. You hear about the violence but seldom do you get to see the cultural excellence of the various communities that exist," said Kirkland.
There is still a big fundraising push happening, Kirkland is looking for specific types of donors to keep the vision of the book fair in motion.
"This is a grassroots movement, it is not funded by big corporations at all. We know there are some industries out there that would give us money at the drop of a dime but because they represent products that further debilitate our community we are not going to accept that money. It needs to be money from clean hands and people who have companies that further the community," said Kirkland.
For more information visit www.soulfulchicagobookfair.com.