CHATHAM COMMUNITY IS HOME TO TWO VALUABLE RESOURCES FOR SMALL BUSINESSES
6/27/2018, noon | Updated on 6/27/2018, noon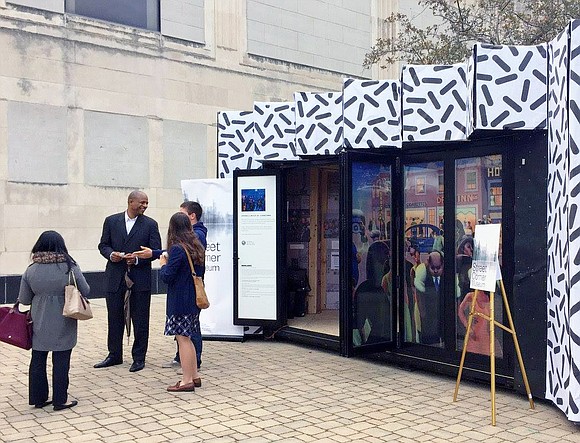 Chatham Community Is Home To Two Valuable Resources For Small Businesses
BY KATHERINE NEWMAN
The Chatham community is home to two unique options for small businesses in the neighborhood. Boombox and the BopBiz Center both provide affordable options for small business owners to elevate their brand while getting to know the neighborhood's consumers.
Boombox is an initiative across Chicago that offers the rental of a shipping container that has been converted into a small scale storefront. The Chatham Boombox is located at 532 E. 79th St. and is available to rent daily, weekly, monthly, or by the weekend.
The BopBiz Center is located at 644 E. 79th St. and provides small businesses a professional office space to operate in and host clients. Businesses can utilize the features of the BopBiz Center for a monthly fee.
"The good thing about the Boombox and the BopBiz Center is that it gives small businesses the opportunity to try out a location before they make a decision on acquiring a brick and mortar storefront or operation. It gives them a low-cost option to check out if their business can be successful, check in with the neighbors to see what could be good about coming to the neighborhood, and also give the neighbors the opportunity to try new things," said Sixth Ward Alderman, Roderick Sawyer.
The Boombox is a perfect place to start for entrepreneurs who have an idea but want to make sure that it is profitable.
"I think it's obviously a benefit that we did not have previously and I'm encouraging people to take advantage of it while we have it, particularly those that are selling goods out of their house or their car. The ultimate goal is to get a brick and mortar location but I think that this is a low-cost option and people should take advantage," said Sawyer.
The BopBiz Center provides a professional space to meet, pitch, train, and interview with WiFi, projectors, and whiteboards along with desk space, telephone answering, mail handling, and the use of a physical office.
"I think it's positive for the neighborhoods to have them and I encourage their use and I encourage small business owners to step out and come out to the larger marketplace to try and sell their goods and wares. I think it's a wonderful thing all around," said Sawyer.
Sawyer himself was a small business owner and knows the financial woes of trying to stay above water while opening a new business.
"One of the things that people are afraid of when they are trying to open a new business is that upfront cost and if the business is going to be successful," said Sawyer. "Having these smaller options to come out and try it for a week or two weeks, do some advertising, and then push your wares to the community with a lower cost option is usually a better fit and it gives you a better gage on whether you want to move into the particular area long term."