Call Me Queen Mentorship Program Teaches Critical Life Skills to Girls at Barbara A. Sizemore Academy
6/27/2018, noon | Updated on 6/27/2018, noon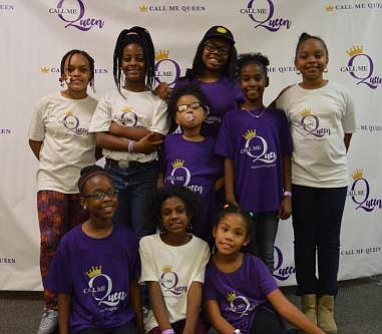 Call Me Queen Mentorship Program Teaches Critical Life Skills to Girls at Barbara A. Sizemore Academy
Twenty students third through eighth grade at Barbara A. Sizemore Academy, a campus of the Betty Shabazz International Charter Schools (BSICS), are learning how to overcome obstacles and reach their full potential by participating in the Call Me Queen Mentorship Program.
Dominique Martin says as a little girl she struggled with low self-esteem. "But I evolved into Princess Domo with the confidence of a queen. That experience, coupled with my love for children, teaching, dance, the arts, and community service prompted me to create a mentorship program for young girls," explains Martin, founder of Call Me Queen. "Our mission is to remind girls to invest in themselves and live to their full potential while exploring the world around them."
Through Call Me Queen, participants are afforded afterschool programs, conferences, workshops and discussion groups. The three pillars of the program are community service (teaching the value of giving back to the community), college and career readiness (workshops designed to encourage girls to strive for higher education), and personal development (promoting the belief that self-care goes hand-in-hand with building self-esteem in young girls).
The goal of the program is to support the development of well-rounded young girls by cultivating a healthy mindset and encouraging financial literacy and college/career readiness. Thus far this year, Sizemore students have participated in a Mother-Daughter Paint Party, Pretty in Pink Pajama Party, Vision Board Party (discussion of goals and strategies to reach them), We Are Royalty Youth Conference, and health, college and career readiness workshops as well as volunteered with the Hope for the Homeless Feeding Service Project. During Women's History Month, the girls took a field trip to see the movie A Wrinkle in Time and then participated in a panel discussion led by women in various fields such as education, nursing, media and law.
According to a survey by The Mentoring Effect, youth with mentors are more likely to resist negative influences. In addition, mentoring is fifth in a list of 31 strategies for its success rate in preventing criminal, violent behavior. Call Me Queen is similar to the mentorship program for boys that BSICS facilitates with TEMBO (Chicago State University/African American Male Resource Center).
Betty Shabazz International Charter Schools (BSICS) is an African-centered network of institutions that is culturally rooted in academic excellence for next generation leadership. In 1998, BSICS became the first African-centered public charter school in Chicago. In 2005, BSICS grew into a network of two K-8 elementary schools and one high school. Today, the network includes the flagship campus Betty Shabazz Academy and the Barbara A. Sizemore Academy. Since its inception, Shabazz has consistently produced exemplary, high-achieving students who have a strong sense of cultural identity and a commitment to make positive contributions to the community and the world. For more information or to schedule a tour of BSICS, visit www.bsics.org or call 773.651.2426. Visit www.callmequeen.org for details.