YMCA Program Gives Young People a Platform for Story Telling
6/20/2018, noon | Updated on 6/20/2018, noon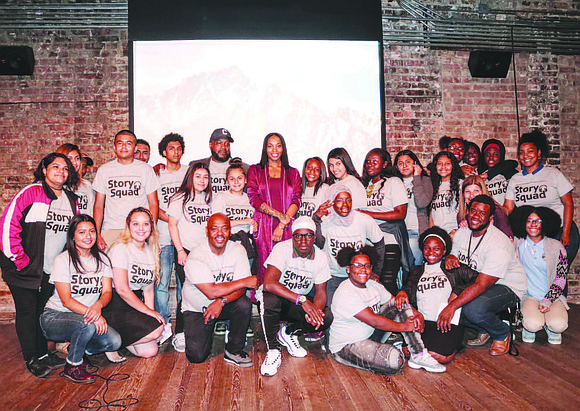 YMCA Program Gives Young People a Platform for Story Telling
BY KATHERINE NEWMAN
The YMCA of Metropolitan Chicago recently hosted the Story Squad Showcase event at Revival Theater in Hyde Park. The event featured original stories written, recorded, and performed by young people in the YMCA's Youth Safety and Violence Prevention Program who participated in the 15-week Story Squad curriculum.
Story Squad is a 15-week program that focuses on digital storytelling. Currently, the YMCA offers the Story Squad curriculum in Humboldt Park, Pilsen, and South Chicago but they plan to soon expand the program to the Woodlawn community.
"We get together every week and each week we have a different topic but the things that we always talk about are how identity is constructed, what it means to be a critical consumer and producer of media, and the relationship
between power and storytelling," said Eddie Ulin, coordinator of Expressive and Media Arts for the YMCA of Metro Chicago.
In Story Squad, the students learn that storytelling is a way to heal and that if they don't tell their own stories, someone else will tell it for them and it might not be the whole story.
"One of the biggest things we talk about is how the news or the media portrays the community, especially the youth. We always tell them every day that if you aren't telling your stories you are allowing other people to tell your stories for you," said Ulin. "That's what we do in Story Squad, try to get them to tell their own side of the story because we believe they are the experts in the community."
The Story Showcase event presented all 30 stories from the three Story Squad cohorts in a two-hour event. Some students elected to perform their stories live in front of the audience, others elected to introduce stories that were played aloud, and all the stories were available at the listening station.
"The showcase is the culminating event where we gather all three sites together and invite friends, families, and communities to listen to the stories that they have been working on for the past 14 weeks. We set up a listening station with laptops that play all the stories because unfortunately we only have 2 hours to have a showcase and we can't play every story," said Ulin.
Over the course of the 15-week program, Ulin said he see's students develop confidence, learn how to express themselves, and heal from past trauma through storytelling.
"They now realize that there are people out there that care about them and they realize that there are other people going through the same things they are. You can tell that new confidence makes them want to go out and share their stories which is pretty much our goal, to try and turn their narrative into healing tools for the future so they know they can do something powerful with their stories," said Ulin.
To learn more about the Story Squad visit ymcachicago.org.