Micro Pantry Installed in Matteson
6/20/2018, noon | Updated on 6/20/2018, noon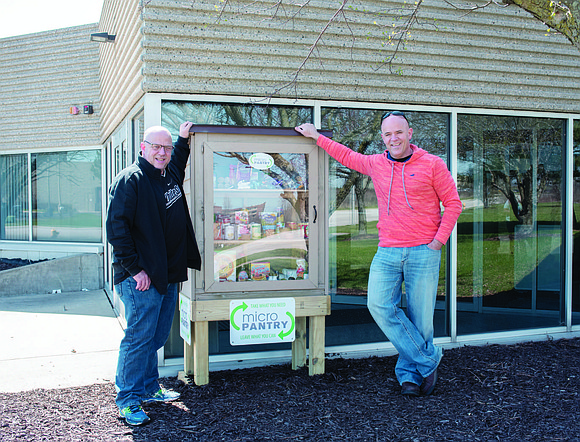 Micro Pantry Installed in Matteson
BY KATHERINE NEWMAN
Prairie State College recently installed a Micro Pantry at their Matteson Area Center, 4821 Southwick Dr., as a new resource for students and resident who may be struggling to access food. The micro pantry is accessible any time of any day and relies on the honor system to ensure that people are taking what they need and leaving what they don't.
A micro pantry is a small outdoor cabinet that can withstand all weather conditions and is stocked with a variety of dry and non-perishable foods. The micro pantry is always accessible and acts as a no-questions asked food resource.
"Often times if somebody is in need of food resources, to go through a food pantry they need to meet certain eligibility requirements and there are sometimes restricted hours. Micro Pantries allow the flexibility to have open access and not have to meet any sort of requirements to access food for those that may be in need," said Kelly Lapetino, dean of Corporate and Continuing Education at Prairie State College.
Prairie Space College received it's micro pantry through a generous donation from Micro Pantries, an organization based in Joliet, IL that has been placing micro pantries all around Illinois since late 2016. Micro Pantries operate under the motto "if you need food, take food. If you have extra, then leave food."
After receiving the donated micro pantry, Prairie State College decided to place it at the Matteson Area Center because they saw a need among their students and Matteson is currently a food desert.
"We did specifically pick the Matteson Area Center because currently there is no grocery store in Matteson and it is considered a food desert because the grocery stores that were there have since closed. Because of the lack of accessibility when it comes to food and certain resources, we chose the Matteson Area Center as the location and we also have a lot of non-traditional students at that location," said Lapetino.
Many students at the Matteson Area Center are enrolled in vocational training and oftentimes do not qualify for financial assistance. Through student surveys, Prairie State College learned that students at the Matteson Area Center saw inadequate food accessibility as a barrier to academic success.
"Based on student feedback and identifying that not having adequate access to food could certainly hinder their education, we wanted to be mindful of how we could offer maybe a small solution to help supplement those that have immediate needs," said Lapetino.
The micro pantry is installed and fully accessible at the Matteson Area Center so anyone in need can visit and feel confident that there will be no paperwork, questions, or judgment involved.
"It's just in the front of the building, you can go in and if you need something, just grab it and go," said Lapetino. Anyone interested in donating to the micro pantry can take non perishable food items to the Matteson Area Center or call ahead, 708-709- 3750 to see what their needs currently are.