The Hyde Park Farmers Market Opens For The Season
6/20/2018, noon | Updated on 6/20/2018, noon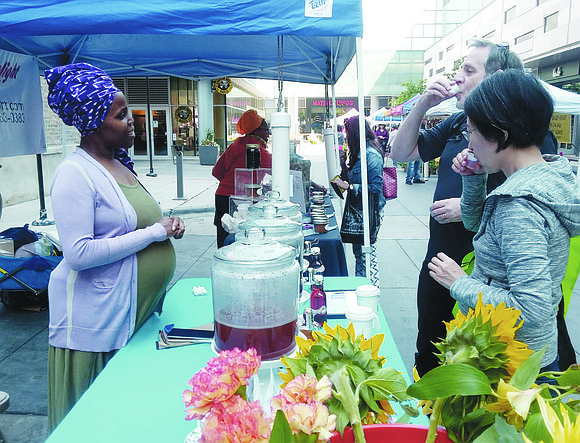 The Hyde Park Farmers Market Opens For The Season
BY KATHERINE NEWMAN
The Downtown Hyde Park Farmers market is officially open and operating from 7 a.m. to 1 p.m. every Thursday at 5235 S. Harper Court Ave. from now until October.
The market serves as a way to highlight area businesses, bring attention to Downtown Hyde Park, and build a thriving Hyde Park community.
The Hyde Park Farmers market is presented by the South East Chicago Commission (SECC), a community-based organization focused on enhancing the quality of life in Hyde Park, Woodlawn, Washington Park, Kenwood, and Oakland, as part of their Downtown Hyde Park initiative spearheaded by Eric Reaves, program manager for the SECC.
Since taking the position in 2014, Reaves has built up the Downtown Hyde Park brand and website as a way to draw attention to the neighborhood and attract tourism and economic development.
"I wanted to establish a brand identity but I also wanted to create a central point of engagement that would act as an area where people could go when they wanted to come to the destination of Downtown Hyde Park, Chicago. The purpose was three fold, to establish a brand identity, to establish a central point of engagement, and also to act as a catalyst for economic development and redevelopment in the Hyde Park Area," said Reaves.
The farmers market features traditional elements like local produce, local retailers, homemade pies, jams, and jellies, fresh cut flowers and potted plants. There are also unique elements like live chef demonstrations, multiple live musicians performing throughout the day, and a Zumba class in the morning.
"We wanted to add some excitement in addition to what was going on so we have three musicians each Thursday, they play for about an hour a piece and it's across all genres, you might have some hip-hop, you might have some jazz, you might have some R&B. We also have Zumba which is an exercise that people can participate in. We really wanted to activate the area and make it warm and inviting.
The market also serves as a way for local vendors to expose hundreds of new customers to their brand and products.
"I envision it as a place for people to come in and get fresh produce but also it's an
opportunity for businesses to be able to impact an average of 300 extra people who may not necessarily come to their business," said Reaves.
More than anything or any product available at the Hyde Park Farmers market, Reaves enjoys getting to know the people that visit the market every Thursday.
"I like interacting with the various people who come to the market. We have people come that are very diverse," said Reaves. "I like interacting with them and telling them about Downtown Hyde Park. I like the passers-by on the street that are drawn into the market because of the music or they see something that's going on that catches their eye."