Community Movement Encourages Westside Residents to be Good Neighbors
6/20/2018, noon | Updated on 6/20/2018, noon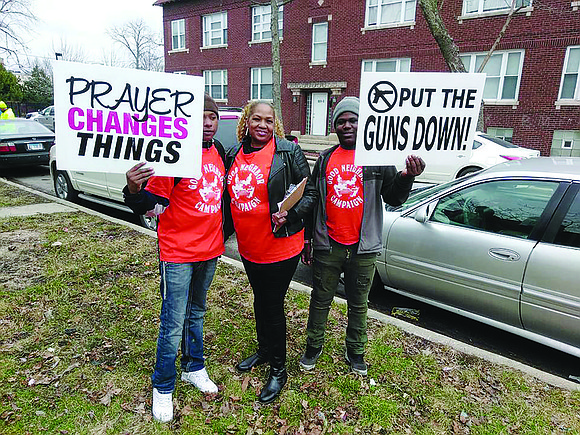 Community Movement Encourages Westside Residents to be Good Neighbors
BY KATHERINE NEWMAN
The Good Neighbor Campaign, a community initiative in Chicago's Austin neighborhood, is working to organize residents to come together and share with each other and support one another. All community members are invited to attend Good Neighbor Campaign meetings held at 5437 W. Division St. on the second Tuesday of every month.
The Good Neighbor Campaign is a community-based movement that has extended from the Westside Health Authority. The purpose of the campaign is to reclaim the Austin community from violence by organizing neighbors and connecting them with needed support from anchor institutions, like churches and community-based organizations, in order to help them create and implement a vision for their community, according to the Good Neighbor Campaign.
"We started the Good Neighbor Campaign because we saw communities really coming apart and people were relying on somebody to come in and rescue them from outside the community. We felt that there were a lot of assets, gifts, and people in the community who could do more to help our
community grow and to help our young people understand the value of where they live," said Jaqueline Reed, Founder of the Westside Health Authority and director of the Good Neighbor Campaign.
The Westside Health Authority is a non-profit organization that serves Austin and the greater Westside of Chicago. The organization was founded in 1988 by Reed and operates under the idea that local residents are the authority on the needs of their own community.
The Good Neighbor Campaign has become a natural extension of the West Side health Authorities mission by inviting community members to gather once a month and share ideas about their needs and ideas on how to solve community problems.
"We don't have a lot of people yet and we are still trying to learn what the motivations of people in these communities are," said Reed. "We've been having these meetings, they are very good meetings and the people like them. Slowly it's growing and it's an organic process, it's not forced."
Looking back, Reed remembers a time when people would always turn to their neighbors and community stakeholders for help. Today there is so much distrust within communities, according to Reed, that when people ask for help they are immediately referred to a large government-funded organization rather than being supported by their community.
"Older people have the memory of when people in the community really helped each other. If you had a problem with paying your rent you could have a rent party and people would come and support you because they knew they may have a problem paying their rent," said Reed. "Now if you have a problem paying your rent, people will tell you to go down to the welfare office."
In an attempt to get back to being that helpful, neighborly community that Reed remembers, she is championing the Good Neighbor Campaign as a way to bring residents of Austin back together.