WALKING TOUR EXPLORES PUBLIC ART ON UNIVERSITY OF CHICAGO CAMPUS
6/13/2018, noon | Updated on 6/13/2018, noon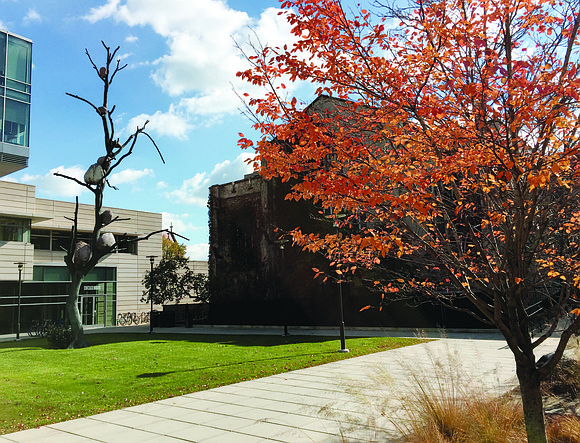 Walking Tour Explores Public Art on University of Chicago Campus
BY KATHERINE NEWMAN
The Smart Museum of Art's upcoming From Spaces to Places Walking Tour will take place on July 5 and is free and open to the public. The walking tour takes participants on a one-hour exploration of public art installations around the University of Chicago's campus in Hyde Park.
The Smart Museum of Art is the fine arts museum of the University of Chicago and home to a collection of more than 15,000 objects, including modern masterpieces, ancient Chinese artworks, examples of European painting, and contemporary art.
The one hour tour includes 10 to 12 pieces of public artwork. The upcoming walking tour will begin at 5:30 p.m. on July 5 at Idee di Pietra (Ideas of Stone), located near the south entrance of the Booth School of Business, 5807 S. Woodlawn Ave.
"What we do at the Smart Museum is we try not to be didactic, meaning that we don't just give you a litany of information. The docents try to open up the artwork to be a little bit more relevant and to have the people on the tour be more participatory. The docents will ask questions and try and get people's insights and thoughts and the things they wonder about and craft a really nice experience for about an hour outside walking around looking at some public art," said Jason Pallas, manager of community engagement and arts learning at the Smart Museum of Art.
The tour ends at the Smart Museum of Art where participants can grab a cup of coffee and extend their experience by exploring the indoor art galleries there.
The Smart Museum of Art is a gateway for the public to experience the University of Chicago. The tour is just one effort to bring the university closer to the rest of the community and surrounding neighborhoods, according to Pallas.
"You may not have always felt that you knew your way around campus or that you were always welcome, but Smart Museum is a place that is always open, always welcoming, and always inclusive. This just extends our reach a little bit in that way and extends our expertise of giving gallery tours to this really dynamic outdoor experience in a way that hopefully makes people feel very comfortable and very at ease on campus and to have access to these works of art," said Pallas.
Many people who work and attend the University of Chicago and people
who have been living in Hyde Park for decades have likely seen many of the public artworks that are featured on the Spaces to Places Walking tour and have always wondered about them.
"They may have walked right by these sculptures many times and had
questions or in some cases because some of them are quite abstract not even known that they were public art, so it's a nice way for them to get the information that they may not have access to otherwise," said Pallas.
To register for the Spaces to Places Walking Tour visit www. smartmuseum.uchicago.edu.