Illinois Lottery Reveals 2018 Red Ribbon Cash Ticket
6/13/2018, noon | Updated on 6/13/2018, noon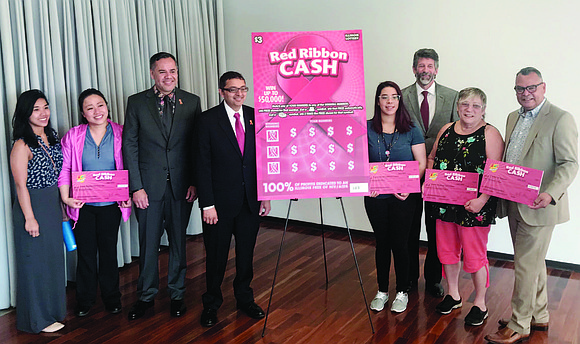 Illinois Lottery Reveals 2018 Red Ribbon Cash Ticket
BY KATHERINE NEWMAN
The Illinois Lottery along with the Illinois Department of Public Health recently announced the 11 Illinois agencies that will be receiving grants to fund HIV/AIDS research, treatment and prevention programs across the state. The grants range from $50,000 to $75,000 and are made possible from Illinois Lottery's Red
Ribbon Cash instant ticket.
This year's Red Ribbon Cast lottery ticket was also revealed at the recent event held at the Center on Halsted, a community center dedicated to advancing community and securing the health and well-being of the Lesbian, Gay, Bisexual, Transgender, and Queer (LGBTQ) community in Chicago. One hundred percent of profits from the $3 Red Ribbon Cash ticket goes toward fighting HIV/AIDS in Illinois.
"It has been almost 35 years since we were knocked off our feet by the awfulness of the HIV/AIDS epidemic and were equally shocked by the lack of response and the hate that we faced," said Modesto Valle, CEO of the Center
on Halsted. "Today, we come together with a love for humankind to be innovative,
compassionate and aggressive. Today, we have hope, new life, and we have the tools to bring about a generation free of HIV."
The Red Ribbon Cash ticket is available at more than 7,000 Illinois Lottery retailers and available prizes range from $5 to $50,000.
"The Illinois legislature sets statutes for us for the different tickets that we do, such as the Red Ribbon Cash ticket for HIV/AIDS support in the community. The lottery being able to sell these tickets is great because we have a presence all over the state so it allows this effort at fundraising through lottery profits to be done statewide with a structure that already exists," said Greg Smith, Illinois Lottery acting director.
The Red Ribbon Cash ticket is just one way that the Illinois Department of Health has collaborated with another organizations to support the Getting to Zero campaign.
"Our statewide strategy to start bringing an end to the HIV/AIDS epidemic, what we call 'Getting to Zero,' is really one that will not be possible without the continued collaboration and partnership of all the individuals who we've worked with over the past years," said Nirav D. Shah, M.D., J.D, director of the Illinois Department of Public Health.
The Red Ribbon Cash ticket is an example of how organizations across the state are joining forces and pooling resources to put an end to the HIV/AIDS crisis in Illinois and in Chicago.
"The HIV statistic in Illinois are sobering, just last year there were over 1,300 cases of HIV diagnosis across the state of Illinois and in Chicago alone, there are nearly 23,000 individuals living with HIV and AIDS," said Shah.
According to IDPH, Illinois ranks sixth nationwide in the diagnosis of HIV infections and ninth in the estimated number of AIDS cases.
For more information about the Red Ribbon Cash ticket visit illinoislottery.com.