Chicago Southland Dragon Boat Festival Takes Advantage of Blue Island's Waterfront
6/13/2018, noon | Updated on 6/13/2018, noon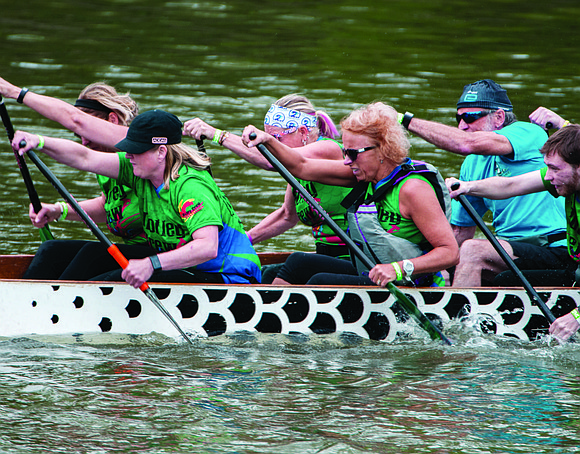 Chicago Southland Dragon Boat Festival Takes Advantage of Blue Island's Waterfront
BY KATHERINE NEWMAN
The third annual Chicago Southland Dragon Boat Festival recently took place at the Metropolitan Water Reclamation District Waterfall Park at Chatham and Fulton streets along the Calumet-Saganashkee (Cal-Sag) Channel in Blue Island. The event was hosted by the Blue Island Park District and served as a community building and team building event for almost 200 people who participated in this year's Dragon Boat Race.
A Dragon Boat is a big long canoe, typically adorned with dragon-like scales
and a dragons head on the front of the boat, that holds 22 people. During the race, 20 people paddle, one person steers, and one person bangs a drum to keep all the paddlers synchronized. During the race two or more dragon boats go head-to-head against each other.
"I think it is a really unique space for people to come together, whether it's team
building for businesses or companies or just a way for friends and family to get together to do something fun and competitive. You get a mix of everything. You get community, family, friends, a ton of good food, good times, and then you get to go out on the water in a setting that I think is really beautiful," said said Kevin Brown, Chicago Southland Dragon Boat Festival organizer.
The event hosts and organizers held the Southland Dragon Boat Festival on the
first Saturday in June as a way to make better use of the waterfront access in Blue Island.
"We are really a waterfront community that doesn't use it's waterfront so we had been looking for something like this and we are still looking for more opportunities to do events like this on our waterway and bring some use to it and hopefully bring some development along the waterway because it's prime for it," said Brown.
Aside from the Dragon Boat Race, spectators can enjoy food and beer vendors,
live music, and activities for kids. The Waterfall Park is also within walking distance
to Olde Western Ave. which is Blue Island's entertainment district and home to the Maple Tree Inn, Rock Island Public House, and the Blue Island Beer Company. It is also located along the Cal-Sag Trail which is currently under construction.
"The event site we have is along the Cal-Sag trail, well it is about to be along the Cal-Sag trail which is coming next year. You can come to check out the event and when the trail is done people will be able to walk along the Cal-Sag Trail and take in the view there," said Brown.
The Chicago Southland Dragon Boat Festival is unique from other Dragon Boat races because they accept teams of all different sizes, you can enter with a full boat, a half full boat, or as a single person and you will be placed in a boat. This year, one of the nine Dragon Boats was made up of individuals and small groups.