Betty Shabazz Student Scores a Perfect 300 on CPS Selective-Enrollment Test
Eighth-Grader Plans to Attend Whitney Young Magnet High School
6/13/2018, noon | Updated on 6/13/2018, noon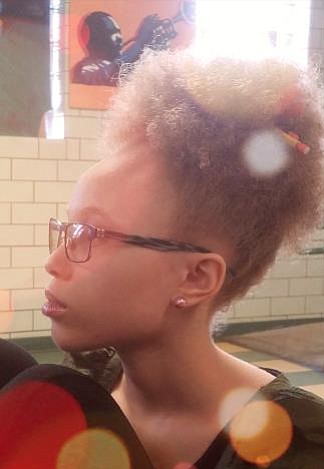 Betty Shabazz Student Scores a Perfect 300 on CPS Selective-Enrollment Test Eighth-Grader Plans to Attend Whitney Young Magnet High School
Betty Shabazz International Charter Schools (BSICS) congratulates honor roll student Dara Bolden for achieving what seems impossible for most – scoring a perfect 300 on this year's Chicago Public Schools selective-enrollment test. Bolden's perfect score nearly guaranteed her a seat at her first-choice high school. She has been accepted at and plans to attend Whitney Young Magnet High School in the Fall.
Bolden, an eighth grader at Betty Shabazz Academy (BSA), 7823 S. Ellis Ave., has been at the school for five years and graduated this past Friday, June 8th. The scholar enjoys reading, creative writing, yoga, nature and chess. "Of course we all are very proud of Dara, but I wasn't too surprised when we first received the wonderful news about her stellar achievement," admits Shabazz principal Mr. Shannon "Sundiata" Mason. "Dara is a member of our accelerated reading group and is known to devour books. We know she will follow in the footsteps of our alumni who have gone on to do great things and make invaluable contributions to our communities."
CPS reports that less than one-third of the nearly 27,000 eighth-grade applicants were offered open spots at selective-enrollment high schools for the 2018-19 school year. Given this, Bolden's achievement is just that much sweeter. And, nearly one-fifth of BSA students are admitted to selective-enrollment schools, ranking the African-centered institution at the top of more than a dozen surrounding neighborhood elementary schools.
For parents, this means that students attending Betty Shabazz International Charter Schools have a higher chance of successfully testing for selective-enrollment options. Selective- enrollment schools are known for being highly selective, having rigorous curricula as well as high college acceptance rates of their graduates. Both Shabazz and Barbara A. Sizemore Academy (BASA), another campus of BSICS, are accepting new student applications for the 2018-19 school year. Sizemore ranks 3rd out of 20 Englewood neighborhood elementary schools.
BSICS' demanding academic and culturally relevant instructional program is holistically designed to support both the needs of the family as well as students' scholastic aspirations while instilling self-esteem and cultural pride. Results from a 2017 Illinois 5 Essentials Survey, created by the University of Chicago, show students ranked Sizemore teachers the highest in "connection" and "support in helping students achieve academic goals." Its PARCC scores are 31 percent higher than other Englewood elementary schools. The school also provides strong cultural arts programming.
Established in 1998, Betty Shabazz International Charter School (BSICS) is a network of two African-centered charter schools serving K-8 students: Betty Shabazz Academy and Barbara A. Sizemore Academy. Since its inception, BSICS has consistently produced exemplary, high achieving students who have a strong sense of cultural identity and a commitment to make positive contributions to the community and the world. For more information, call 773.651.1661 or visit https://www.bsics.org/index.jsp