Six Week Southside Summer Camp Is Enrolling Now
6/6/2018, noon | Updated on 6/6/2018, noon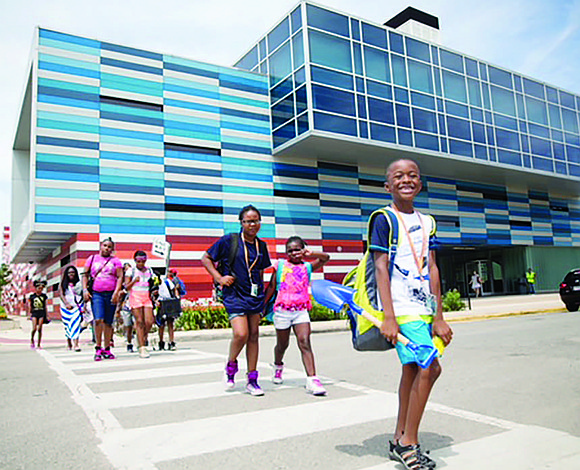 Six Week Southside Summer Camp Is Enrolling Now
BY KATHERINE NEWMAN
The Gary Comer Youth Center is currently enrolling students in their six-week summer camp for rising third-grade to eighth-grade students. The camp runs eight hours a day, five days a week from June 25 through Aug. 3 and will engage young people in academic and creative programming along with weekly field trips and biweekly special events.
The Gary Comer Youth Center is an 80,000 square-foot facility that is part of the Comer Education Campus which is also home to Gary Comer College Prep and Gary Comer Middle School. The Youth Center provides after-school academic support for the two schools located on the campus, but also opens their programming to all young people in Chicago, catering to children in 3rd grade through 12th grade.
"The organization provides academic support for youth, we also provide programming in urban agriculture, culinary arts, technology, visual, performing, and cultural arts, sports and recreation, and then we also provide programming in civic engagement and social leadership development all of which we offer to our program base annually," said Aisha Williams, program director and the Gary Comer Youth Center.
The same program tracks that are offered during the school year will be offered during the summer camp along with academic programming and field trips.
"The cost of Gary Comer Camp is $475 per child and that includes access to all the program tracks along with a camp t-shirt, backpack, water bottle, access to weekly field trips, and daily meals, breakfast, lunch, and snack. We will also be hosting biweekly special events like the splash day, the sports inflatables day, and then an end of the year barbecue celebration at Dan Ryan Woods which is also inclusive of the summer camp showcase," said Williams.
Included with the $475 camp fee each student will get a membership to the Gary Comer Youth Center for the 2018-19 school year. There is a limited amount of scholarship money available for families that are unable to pay the full fee and there is also an option to split the price into two payments.
"We recognize that during the summer months a lot of children are inactive, or they are spending way more time with their electronic devices and not enough time engaging with other youth their age or having fun outdoors. Here at the Gary Comer Youth Center, we provide the opportunity for youth to be able to do all the things that they love, like using technology, with the opportunity to collaborate with their peers. We create an opportunity for youth to have a safe space to try on any kind of identity that they want to try on in an environment that is supported by mentors, coaches, and adults that believe in them and will push them forward," said Williams.
For more information and to enroll in the Gary Comer Youth Center Summer Camp visit www.garycomeryouthcenter.org.