New Book Discusses Policing, Prison, and Punishment in Chicago
6/6/2018, noon | Updated on 6/6/2018, noon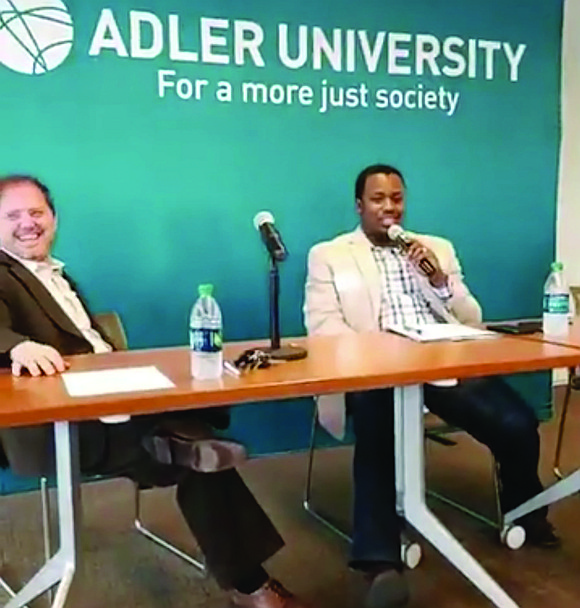 New Book Discusses Policing, Prison, and Punishment in Chicago
BY KATHERINE NEWMAN
A recent panel discussion held at Adler University brought together three community activists to discuss War on Neighborhoods, a book that was released in April and explores policing, prison, and punishment in Chicago.
The panel was led by Daniel Cooper, co-author of War on Neighborhoods, and featured insight from three panelists who are currently working in their communities to create a better quality of life for residents.
"I have read most of the book and it's a great read. It really does highlight a lot of the issues that we are facing in Austin and on the West side altogether," said Darnell Shields, executive director of Austin Coming Together (ACT) and War on Neighborhoods panelist.
ACT was created in 2010 and it is a group of community organizations who all work together and share a mission of creating a thriving Austin community.
"Right now, we act as a backbone agency for a network of organizations that are committed to improving the quality of life in Austin. Together, we have formed four impact goals that we are really focused on achieving," said Shields.
The four goals that ACT has set are to improve the quality of early learning in the community, focus on living wage careers, improving neighborhood safety, and stabilizing the housing market.
The book, War on Neighborhoods, argues that when the main investment in a community is policing and incarceration, instead of strengthening resources, that amounts to a war on neighborhoods that fuels poverty and disadvantage.
The authors have suggested that high crime in Chicago is the consequence of a broken public safety system and that city leaders have been attempting to create peace through punishment for decades and all it has done is cause disinvestment in neighborhoods.
"We are investing lots of money in systems that actually can degrade human potential and communities. We have invested so much in these systems that we don't have other viable systems in place when people need real intervention in their lives. We have degraded our school resources, our mental health resources, and our hospital and healthcare resources for many people. The only democratically, all-encompassing intervention that is available for everyone is a criminal justice intervention," said Elena Quintana, executive director of the Institute on Public Safety and Social Justice at Adler University and War on Neighborhoods panelist.
The book tells the story of a Westside neighborhood that demonstrates the issues that many majority-black neighborhoods face across the country. Through diligent research and powerful stories, the book attempts to show that punishment will never create peace in neighborhoods and calls for a change in the way that public dollars are invested to create safe neighborhoods.
"It is an ambitious attempt to transform our criminal justice system into something completely different than what we see now and that is not easy. The verdict is still out as to whether or not we are going to accomplish it," said Clifford Nellis, executive director of the Lawndale Christian Legal Center and War on Neighborhoods panelist.