WEST SIDE ACTIVIST RECEIVES PEACE RUN TORCH-BEARER AWARD
7/25/2018, noon | Updated on 7/25/2018, noon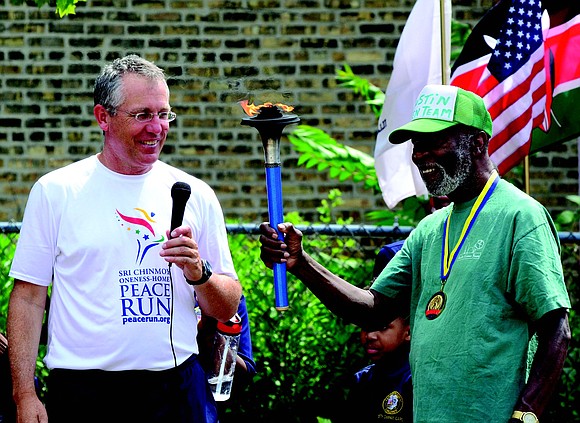 West Side Activist Receives Peace Run Torch-Bearer Award
BY KATHERINE NEWMAN
Longtime Austin resident and community activist, George Lawson, was recently
awarded the 2018 Torch-Bearer Award from Sri Chinmoy Oneness-Home Peace Run due to his commitment to community service for over 50 years. Lawson has been part of the Austin Green Team since it's inception along with many other community benefit organizations on the west side of Chicago.
The Sri Chimney Oneness-Home Peace Run is a global torch relay that embodies humanity's universal aspiration for peace. Since 1987, the Run has visited over 150 nations and territories. It is estimated that the torch has been carried over 395,000 miles during that time and touched the lives of millions of people. The Peace Run does not seek to raise any money or highlight any political cause, it exists simply to create goodwill among people of all nations and Lawson was selected to bear the torch in Chicago.
"The torch is kind of like the one they have in the Olympics and the Peace Run goes to different countries and normally the torch is given to a person that works in the community and they pass the torch on from one person to the next," said Lawson.
Winning the award was something that Lawson didn't expect and he humbly said that he was surprised, grateful, and also thought that there were many other people doing community work that could have won this award as well.
Lawson was one of the original members of the Austin Green Team which is a volunteer organization that builds, maintains, and supports community gardens and beautification in the Austin neighborhood.
Back in 1970, Lawson got his start in community service by becoming a Boy Scout Leader in the community when no one else was stepping up.
"I mixed community work with the growth of my kids and the work that my wife was doing. She got me involved when I was working two jobs. She was trying to organize boy scouts and there was a big meeting and the room was full of people and nobody volunteered to be a scout leader so I raised my hand and my wife about fainted. I didn't know what time I was going to have available for this, but after I volunteered a couple other men joined me and we were able to build the pack up to one of the best in Chicago," said Lawson.
In 1972, Lawson became the housing chairman for the South Austin Coalition Community Council (SACCC) where he was able to help people find adequate and affordable housing and influence local banks to offer better lending rates for potential homeowners and home improvements in the neighborhood.
Additionally, Lawson was part of The Friends of the Park where he helped to organize events in Austin's parks to make sure that they were maintaining a safe and inviting place for neighborhood children and families.
When looking back on all of his accomplishments, Lawson said that he definitely didn't do it alone and there were always a lot of people around him.