DINING ON THE FIVE EXTENDED TO LABOR DAY
7/25/2018, noon | Updated on 7/25/2018, noon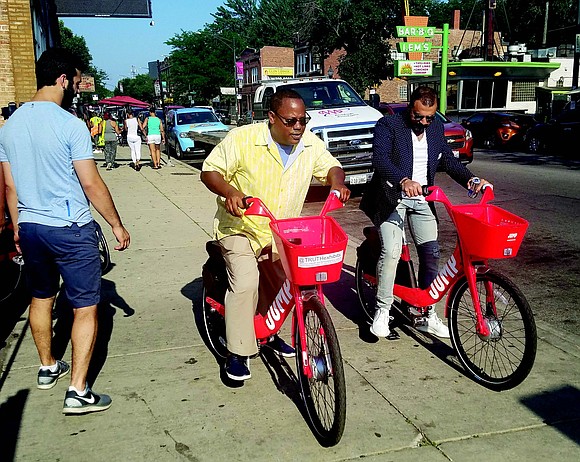 Dining On The Five Extended To Labor Day
BY KATHERINE NEWMAN
Several businesses along 75th Street in Chatham are participating in the second annual Dining on the 5 event hosted by the Greater Chatham Initiative. Several participating restaurants are offering a $5 to $10 special for the duration of the event which has already been extended twice and will now last through Labor Day weekend.
This is the second year that Dining on the 5 has taken place on 75th street and there are nine businesses participating in this year's event. Originally, the idea came from a collaborative conversation between members of the City of Chicago Department of Planning, FAR Associates, the Driehaus Foundation, and Nedra Sims-Fears, executive director of the Greater Chatham Initiative.
"We wanted to see what kind of things we could do that are not expensive and could activate the street. We thought of having patio furniture outside which was a great idea and the community loved it because people can get out and enjoy the weather and each other and see their neighborhood from a different point of view," said Sims-Fears.
Lem's Bar-B-Q, 311 E. 75th St., is a staple of 75th Street and has been in operation for almost 60 years. They are offering a mini JBL Special for $9 in honor of Dining on the 5. The mini JBL gives customers a taste of Lem's wings, ribs, tips, and links.
Flammin Restaurant, 641 E. 76th St., is relatively new on the block that specializes in American cuisine and serves breakfast all day. For Dining on the 5, Flammin is serving shrimp and grits and fish and chips for $5 and they are offering a $10 taco special.
The owner of Flammin Restaurant, LaTasha Taylor, said that Dining on the 5 has really increased their sales and she is thankful for the support for the community and especially from the Alderman Roderick Sawyer.
Another participating business that has been holding it down on 75th street for decades is Frances Cocktail Lounge. The 53-year-old establishment hosted a happy hour from 4 p.m. to 7 p.m. last year for Dining on the 5 and it went over so well that they never stopped. The happy hour special offers two drinks for the price of one and Marlon Mitchell, owner of France's, has invited Dining on the 5 participants to grab a $5 special and head over to France's for a drink.
"I was thinking, maybe you could get some food from one of the restaurants and then you could have a drink with us. A lot of the businesses are quite small so they don't have washrooms and everything that you might need when you're eating and drinking so with Frances being there, I wanted to provide that for everybody," said Mitchell.
Other participating businesses include Mabe's Deli, Brown Sugar Bakery, A&S Beverages, and more. Dining on the 5 is taking place from now until Labor Day.