100 Black Men Of Atlanta, Inc. Names Anthony Flynn New Executive Director And Chief Operating Officer
7/25/2018, noon | Updated on 7/25/2018, noon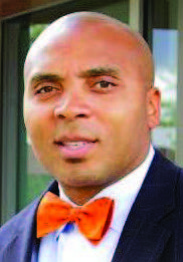 100 Black Men Of Atlanta, Inc. Names Anthony Flynn New Executive Director And Chief Operating Officer
Anthony Flynn is the newly appointed Executive Director and Chief Operating Officer (COO) of the 100 Black Men Of Atlanta, Inc. (The 100), one of the city's most influential African-American organizations focused on leadership development, educational support, economic empowerment, and health and wellness. In his role as Executive Director and COO, Flynn will oversee the day to day operations, strategic planning, external relations, and fundraising initiatives for The 100.
As a successful leader in the business world with numerous Fortune 100 giants (e.g. Kraft Foods, RJ Reynolds and 3M) and a pioneering executive in numerous, multi-million-dollar non-profit ventures, Flynn has a proven track record for converting ideas and theories to actionable achievements. He is the founder of The Gifted Education Foundation (www.iamgifted.org) which produces marketplace leaders from low-income communities across America. In its first three years of existence, the organization supported just over 100 students earning more than $18 million in scholarship. Its students have received full scholarships to Stanford, Dartmouth, Princeton, Emory, and more.
Flynn graduated from the Goldman Sachs 10,000 Small Businesses Program in 2017 where he won the business pitch competition for his cohort. He holds a Bachelor of Business Administration in Sales from The University of Memphis where he graduated as the top student in his major and he also holds a Master of Arts in Religion degree from Memphis Theological Seminary where he also graduated with honors.
He is also the author of two books: "The Execution Pipeline: A Step-by-Step Guide to Moving Your Business Idea From Dream to Reality" and "The Happiness Map: Finding Fulfillment in Work and Life" and has been a featured keynote speaker at Harvard University, Emory University, Georgia Tech, The University of Memphis, Biz1190 (Wall Street Journal syndicated radio show), Q Conference. He also serves as a coach and consultant to a number of high net-worth individuals, companies, professional athletes, small businesses, non-profit organizations and churches.
Originally from Memphis, TN, Flynn moved to Atlanta from Southern California 9 years ago with his wife of 17 years, son (15), and daughter (12). In his TEDx talk "The Intangibles," Flynn shares his personal story of poverty and addresses the criteria needed for students and families to escape the grip of detrimental generational cycles. Flynn's unique perspective is one that Larry Johnson, chairman of the board says will help expand the reach of the organization. "The 100 Black Men of Atlanta is fortunate to have found someone who has such a perfect combination of corporate and non-profit executive experience to lead our organization. Anthony Flynn is the right leader at the right time and we are confident that his innovative ideas, diverse management, and personal triumph will help to connect the organization with the people who we serve and expand the solid foundation we have achieved over the past thirty plus years." Flynn will add value to The 100 by bringing his professional and personal experience to 100's Project Success program which include: 100 Robotic Scholars Alliance (a S.T.E.M. program), B.E.S.T. Academy Pathways of Developmental Success (a leadership development program), and Project Success (a college preparatory and tuition assistance program). The program provides mentorship to at-risk youth living in vulnerable communities in the Atlanta metro area. In fact, 100% of the students who complete Project Success have graduated from high school and 80% have graduated from college in four years, far outpacing the national averages.