Local Craft Beer Festival Showcases South Side Brewers
7/18/2018, noon | Updated on 7/18/2018, noon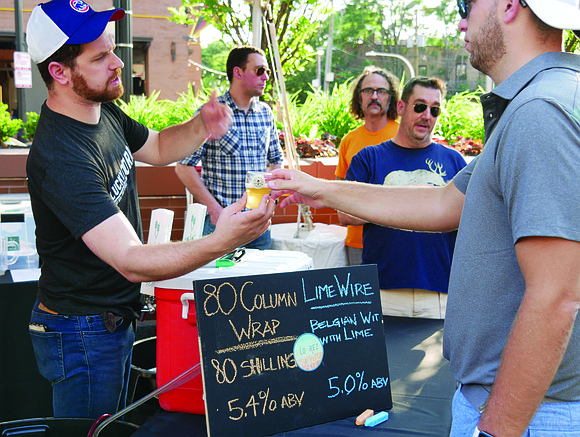 Local Craft Beer Festival Showcases South Side Brewers
BY KATHERINE NEWMAN
The Illinois Craft Brewers Guild and Choose Chicago, the city's tourism bureau, have partnered to bring the Chicago Friday Night Flights event to Pier 31 at the 31st Street Beach on July 20 from 6 p.m. to 9 p.m. The event will feature neighborhood breweries and local craft beer along with music and food to enjoy. Sampling passes are $15 in advance or $20 at the door and include 10 three-ounce samples of craft beer.
"This is actually an initiative of the Mayor's office who tasked to the City of Chicago's tourism arm to work with the Illinois Craft Brewers Guild to come up with a series of neighborhood events and the idea is for, particularly residents of Chicago, to have something fun to do to kick off their weekend on a Friday night for a couple of hours and in a way to bring the neighborhoods together and the breweries that are in those neighborhoods," said Danielle D'Alessandro, the executive director for the Illinois Craft Brewers Guild.
This is a hyper-local and intimate craft beer tasting event, according to D'Alessandro. There will be 11 South Side breweries at the event pouring their best beers and representing communities in the South Loop, Bronzeville, Pilsen, Bridgeport, Pullman, and Beverly.
"Friday Night Flights is not only a great showcase of Chicago's outstanding craft beer scene, it's also become a wonderful way to try out a new neighborhood and spend time with friends after a long week," Mayor Emanuel said in a press release. "I for one can't wait to get back out this summer to try some of the latest goses, stouts, hazy IPAs, krieks and everything else our neighborhood brewers are crafting."
This is the first Friday Night Flight that will be held on the South Side of Chicago and it falls in line with a trend of the craft brewing industry as a whole becoming more diverse, more inclusive, and more community oriented.
There are South Side breweries that are revitalizing historic breweries, breweries that are working to be more sustainable and environmentally friendly, and breweries that are partnering with culinary schools to build a comprehensive understanding of how beer pairs with food.
"What we've seen on the South Side, with the breweries that are opening up there, is really indicative and points to what we like to talk about more broadly as the craft beer industry," said D'Alessandro.
The Friday Night Flight is not only a place to taste local beer, it's an intimate community event and a place to meet local brewers and learn more about their brewing styles.
The South Side brewers that will be at the 31st Street Beach Friday Night Flight include Whiner Beer Company Marz Community Brewing, Lo-Rez, Argus Brewery Inc., Alulu Brewery and Pub, Horse Thief Hollow Craft Brewery, Open Outcry Brewing Company, Vice District Brewing, Lagunitas Brewing Company, Motor Row Brewing, Moody Tongue Brewing.
For more information visit www.illinoisbeer.org.