David M. Luna highlights how illicit trade poses many harms across the international community
7/18/2018, noon | Updated on 7/18/2018, noon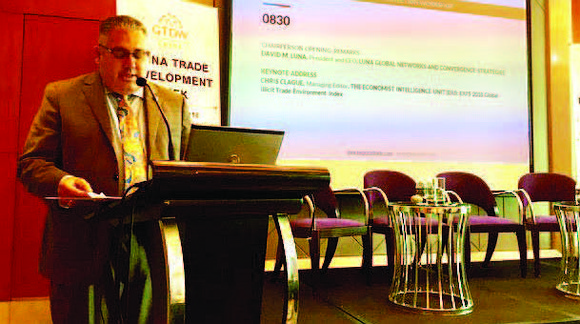 David M. Luna highlights how illicit trade poses many harms across the international community
David M. Luna, President & CEO, Luna Global Networks & Convergence Strategies LLC recently provided opening remarks at the China Global Trade Development Week (GTDW) held in Shanghai, China and chaired the "Brand Protection: Anti-Illicit Trade" (AIT) Workshop. At the workshop, Luna highlighted how illicit trade poses many harms across the international community.
Numerous international organizations have estimated that today's global illicit markets, and various forms of "convergence crime", account for several trillions of U.S. dollars every year, to include the trafficking of drugs, people (especially women and children), arms, counterfeit and pirated goods, illegal cigarettes and alcohol products, endangered wildlife, pillaged natural resources, and many other illicit commodities, corrupt proceeds and illicit financial flows.
Building on the work of the OECD and its Task Force on Countering Illicit Trade, in a 2017 report by the International Chamber of Commerce's Business Action to Stop Counterfeiting and Piracy (BASCAP) and the International Trademark Association (INTA), it is projected that the global economic value of counterfeit and pirated goods alone will reach close to $3 trillion by 2022.
Internet online shopping and cybercrime also present a threat to companies and consumers alike. A recent report estimates that the financial costs from cybercrime will double from $US 3 trillion in 2015 to $US 6 trillion by 2021 "according to Cybersecurity Ventures" .
In addition to dis-incentivizing innovation and economic damages, Luna underscored "the impacts include reputational harm, stolen data, lost productivity, theft of intellectual property, and other costs."
"Illicit trade not only results in lost profits for companies, job displacements for workers, business closures, economic hardships for governments when less revenue is brought into the treasuries to fund public services, but also poses grave dangers to public health and safety."
Illicit trade also has direct impacts on our communities when we realize that close to 40 million people are trafficked or in modern slavery (including millions of children in forced labor); or when communities are increasingly harmed every day from counterfeit medicines, tainted or contaminated food stuff, or when defective automotive and other illicit consumer products kill tens of thousands of people every year, if not more.
Diversion, counterfeiting and smuggling of many of today's leading brands are very lucrative for criminals -- and in some cases, terrorist groups: it is a low-risk, high-reward business.
Luna said that he is "a big proponent of finding innovative ways to leverage transformative technologies to combat today's transnational threats."
Anti-counterfeiting strategies and brand protection technologies such as track and trace can help to pinpoint supply chain strengths, weaknesses, and vulnerabilities, criminal exploitation, and brand diversion in cyberspace or in retail stores.
"I also believe blockchain technology is potentially a game-changer across industries to more effectively counter illicit trade and other threats," said Luna.
"This is why we have added blockchain and other important technologies – such as those being advanced by Chronicled Inc., I-Trace Technologies, and the Asia-Pacific Model E-Port Network Operational Center [APEC APMEN China] – to our GTDW AIT agenda to help communities stop fakes, deadly medicines or other harmful products from entering global supply chains, or to address product diversion from distribution systems."