HANDS OFF, PANTS ON ORDINANCE GOES INTO EFFECT
7/11/2018, noon | Updated on 7/11/2018, noon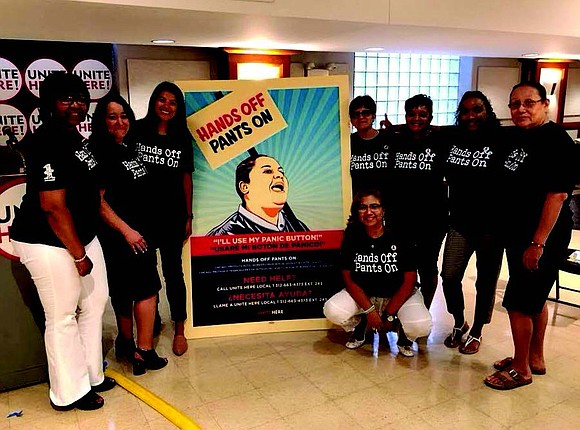 Hands Off, Pants On Ordinance Goes Into Effect
BY KATHERINE NEWMAN
Starting on July 1, a new city ordinance went into effect known as the Hands Off, Pants On ordinance. The new safety measure provides certain hotel workers in Chicago with panic buttons that would allow them to call for help if they were in a dangerous situation while at work. Michelle Harris, Alderman of Chicago's 8th Ward, was instrumental in passing the new safety measure.
"We want to make sure that everybody feels safe and protected at the job and today we get a panic button," said Harris at a recent press conference celebrating the ordinance. "I'm so proud to have been a small part of this. We are able to bring attention to some of the most vulnerable workers in the City of Chicago and the violence is over, we no longer have to be quiet."
Over a year ago, in April of 2017, Harris introduced the "Hands Off, Pants On' ordinance to protect Chicago hotel workers from sexual harassment and assault. In Oct. of 2017, the ordinance was passed unanimously by Chicago's City Council and finally went into effect on July
1.
The ordinance requires hotel employers to provide a panic button for hotel workers that are assigned to clean or restock guest rooms and restrooms alone, including housekeepers.
Hotel employers are also now required to maintain and comply with a written anti-sexual harassment policy. The policy must encourage hotel workers to report sexual harassment and assault by guests, clearly state the procedure the hotel employee and employer will follow when sexual harassment and assault are reported, and allow hotel workers the right to leave the immediate area where danger is perceived and be assigned to work in a different area away from the offending guest.
Lastly, the ordinance prohibits hotel employers from penalizing hotel workers for reporting sexual assault or harassment, using the panic button, or exercising any other right given to them through the ordinance.
This ordinance was spearheaded by Harris along with the Unite Here Local
1, an organization that represents over 15,000 hospitality and food service workers in the City of Chicago and surrounding areas. In 2016 Unite Here Local 1 surveyed 500 female hotel workers about their experience with sexual assault and harassment from guests.
"58 percent of the hotel workers we surveyed said they had experienced sexual harassment from a guest. 49 percent of all the housekeepers that we surveyed told us that they had seen a guest naked, had a guest expose themselves, or had guests flash them," said Karen Kent, president of Unite Here Local 1, at a recent press conference celebrating the ordinance.
Of the 500 women surveyed by Unite Here Local 1, 44 percent identified as African American and 35 percent identified as Hispanic. This ordinance will protect all of Chicago's women in hospitality, whether they are in a union or not, from sexual harassment, assault, and from hotel employers who in the past might have turned a blind eye to bad behavior from a paying guest.